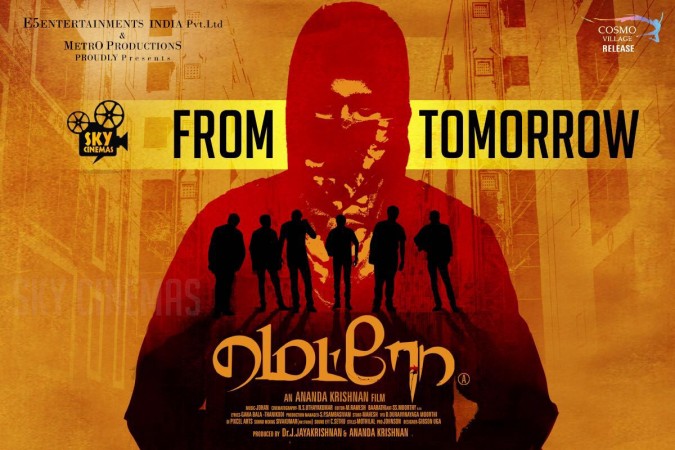 Anand Krishnan, who had earlier directed "Aal," is back with his second outing "Metro." It is a crime thriller, which has opened to fairly positive reviews.
The movie prominently features newcomers or relatively newcomers. Shirish Saravanan, Bobby Simha, Sendrayan, Sathya, Nishanth, Rajkumar, Yogi Babu and others are part of the cast. The movie features Johan's music, NS Uthaya Kumar's cinematography and N Ramesh Baarathi's editing.
While the audio has failed to draw the viewers' appreciation, the trailer has managed to impress most.
The movie is inspired by a real-life incident and throws light on the modus operandi of chain snatchers. It also tries to explore the psyche of modern-day criminals and their motives for turning to crime. The story of the movie is narrated with two important characters, Arivu (Shirish), a student, and Madhi (Satya), a journalist, who are the sons of a retired cop.
Madhi is in love with a girl played by Maya, who wants him to have an expensive mobile and a bike. As his family could not afford it, he decides to commit a crime. The remaining part of the story is about how this affects his family and the way a journalist wages war against the organised crime.
Reviews:
Here, we bring you the audience's response to the film:
Prashanth:#Metro - so close to reality. I wondered why censors made the director wait so long for an A certificate .
Common Man Sathish: #Metro A Raw movie about Chain Snatching. People who love world movies will like this one. @akananda @johnsoncinepro
#Metro is one of the rare Raw & Realistic movie in Kollywood & hence, Censor even denied certification for the movie initially. @akananda
#Metro Kudos to @akananda for boldy taking this plot (Chain Snatching) & giving it without any commercial compromises. @johnsoncinepro
#Metro Sathya fits the role of younger brother, who looks completely innocent & how the circumstances changes him @akananda @johnsoncinepro
#Metro Sirish, Simha & even a old man who comes for 2 minutes have got wonderful characterisation & dialogues.@akananda @johnsoncinepro
#Metro A Raw movie about Chain Snatching. People who love world movies will like this one. @akananda @johnsoncinepro
Ramesh: #Metro [3.5/5]: Dir @akananda has done a detailed research about urban crimes.. And made a fine thriller with right emotions.. RECOMMENDED..
#Metro [3.5/5]: DoP #Udhayakumar, Music Director #Johan and Editor have done a commendable job.. Team has optimally used their budget..
#Metro [3.5/5]: Good Supporting cast.. #Sendrayan in a very different role.. Veteran Actress #Thulasi is perfect in the Mother role..
#Metro [3.5/5]: @actor_shirish makes a fine debut as the hero.. Does well both in action and emotional scenes.. @ActorSimhaa is top notch!
#Metro [3.5/5]: A riveting thriller about chain-snatching and stolen gold supply chain.. Packed with powerful family emotions.. A good watch
Kaushik (LMK): #Metro - A hard hitting crime thriller brimming with emotions, splendid action moments & mature adult content. Jun24
Sreedhar Pillai: #Metro 2.5/5.Bold & daring subject on Mobike chain snatchers & their connect 2 underworld that deals in stolen gold in Chennai is relevant.
#Metro 2.5/5.Though just 2 hrs it is slow paced and the new set of actors r not convincing to make it look real. Uthayakumar's camera fab.
Vishwa: #Metro: Decent crime thriller wit a new plot, nice detailing on chain snatching keeps u engaged in d 1st half followed by dragging 2nd half!