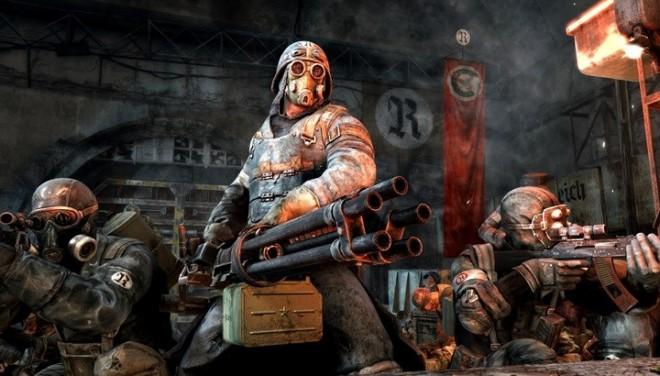 Deep Silver, publisher of Metro: Last Light released the third downloadable content (DLC), The Developer Pack for the FPS video game on Sept. 17, 2013 in North America.
The DLC was released on the PlayStation Network, Xbox Live and Steam, said the studio in a post on the game's official website. The post also said that the DLC will be inclusive of a survival horror-inspired solo mission, that is "designed to be one of the most intense, stressful" called "The Spider's Lair."
Player's mission is to escape the spider's lair, which is a forsaken Missile Silo with just lighter and compass initially. They will later be provided with a new Metro weapon, hand-pumped Flamethrower.
"The Spider's Lair is pure survival horror, Metro style - it combines all of our limited resource mechanics to pile pressure on the player," the studio explained.
"You'll be frantically wiping gore from your cracked mask, and hunting for spare filters as your oxygen ticks relentlessly down. The flamethrower's fuel tank needs to be constantly cranked to maintain pressure, and you'll need your torch on full beam at all times..."
The Developer Pack will also have Shooting Range with a series of marksman challenges for players to check their skill, and Artificial Intelligence (AI) Arena will allow enemies to be pitted against each other, like humans against mutants. This DLC will also allow players to have weapons of all configurations and players can test them out at the Shooting Range. There is also a "museum" that allows players to "get up close and personal to our mutants and key NPCs."
Players will also get a new weapon, which has not yet been found in the game. The weapon has an incredible back story to it and it will be revealed next week, said the studio.
Deep Silver also revealed that its next DLC after The Developer Pack is Chronicles Pack, which will be "final DLC most closely resembles the Metro campaign experience as you take controls of Pavel, Anna, and Khan and Ulman as we tie up some unanswered questions away from Artyom's quest."
The game was released on on Sept. 18 in Europe for PC, PlayStation 3 and Xbox 360.