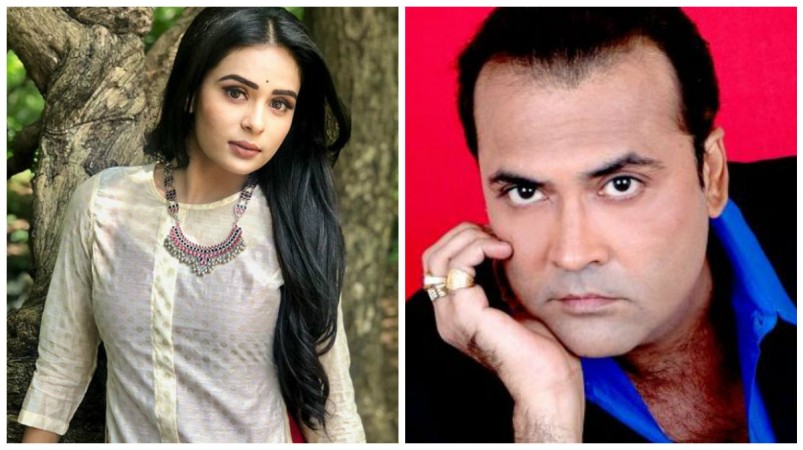 In the midst of ongoing #MeToo movement in India, another shocking story has come up involving popular TV actress Sonal Vengurlekar and photographer Raja Bajaj.
Sonal has accused Raja, father of TV actress Sheena Bajaj, of sexually harassing her during her struggling days. Sonal said that Raja forcibly touched her breasts, and tried to remove her clothes when she had accompanied him to assist in a photoshoot back in 2012. She was just 19 years old then.
Sonal, who has worked in TV shows like Yeh Vaada Raha, Shashtri Sisters, Dil Dosti Dance among others, had filed a case against Raja too, which is still running in the court of law.
Below is what Sonal told Bombay Times while sharing her #MeToo story.
"This was when I had started giving auditions and chanced upon an opportunity on a casting website. I called on the number mentioned on the site and was told by the person to come for an audition in Borivali. The man happened to be TV actress Sheena Bajaj's father, Raja Bajaj. He began the conversation by boasting about his daughter and how she gets paid Rs 55,000 per day. He promised to help me bag acting offers. I gave the audition, but couldn't deliver the dialogues well since I was untrained. He told me that I have a good face, but needed to have a better understanding of the profession and suggested that I assist him on a shoot, which was slated to happen within a week. I agreed to that. A few days later, he called to say that we would be going to Lonavala for the shoot and I should inform my family that it would be a day-long assignment. He picked me up from Powai on March 5, 2012 and there was a model in his car. He introduced us and said that he would be doing a photoshoot with her at a resort in Khopoli. When we reached there, I saw another model with her mother at the resort. After some time, he told me to try out a couple of outfits, though I wondered why he asked me to try out those outfits when the shoot was with another model. I didn't give it much thought and walked towards my room to do as I was told. However, I realised that he was following me. He had a bottle of cream in his hand and told me to apply it on my breasts before wearing those dresses, as that would help in giving them a proper shape. I told him that the dresses would fit me even without it. Much to my horror, he came forward and applied the cream on my breasts forcibly. I got scared and ran away. I told him that I wouldn't try the dresses, and suggested that I would rather watch the shoot and learn on the job."
"What made the situation even scarier was that no one from my family was with me. After the incident, I decided to step out of the room and act normal. Later in the evening, he told one of the models to leave for home and informed the other model, who was there with her mom, that her shoot would take place at night. I went back to my room, from where I could see Raja drinking and chatting with the resort manager.
"Sometime later, he came to my room and said, 'Aapko main tantrik vidya sikhaunga, jisse aap raaton raat superstar bann jaogi. You have to remove your clothes and sit naked in front of me and repeat the mantra I chant.' I snubbed him and said that I didn't want to learn anything. He, then, stepped forward and tried to forcibly remove my clothes. I somehow managed to get out of the room and went straight to the model and her mother, who were in the adjoining room. I could see him peeping into the room fearing that I will expose him. Sometime later, the resort manager informed us that Raja had fled the scene without his belongings. He must have realised that he did something wrong for which he could get into trouble," shares Sonal.
"The following day (March 6), when I returned to Mumbai, I was confused about sharing the incident with my mother. So, I spoke to a family friend and narrated the incident to him. He told me to call and confront Raja, but his wife answered the call on his behalf. I told her about what transpired during the shoot and she apologised. She also requested me to come over and discuss it. On March 7, I went with my friend and both of them (Raja and wife) fell at my feet and pleaded not to disclose it to anyone. They even said that they would help me bag a lead role. But by then, I was determined to file a police complaint and I did that at Kasturba Marg police station (Borivali), near his residence, the same day. The model and her mother, who were present at the resort, were called to record their statement as well. They said that they had no clue about what had happened inside my room, but testified that Raja had left without any information that night and they didn't know why. I think he was locked up for a night before he was out on bail."
Sonal further added that at one point of time she thought of withdrawing the case for fear of well-being of her family, but she continued to fight as she believes she did nothing wrong.
On the other side, Raja denied the allegations and claimed that Sonal had demanded money from him, and when he refused to entertain her demand, she filed a "false" case.