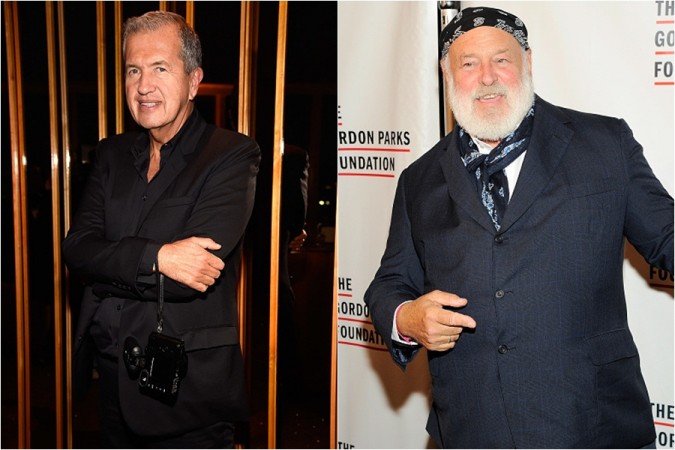 Renowned fashion photographer Mario Testino, 63, and Bruce Weber, 71, have been dropped by many top fashion brands after multiple allegations of sexual exploitation were levelled against them by several male models, according to a report in The New York Times.
Fifteen male models have recalled instances of sexual harassments when they were working with Weber during photo shoots. Similarly, several models have come up against Mario Testino as well.
A model named Robyn Sinclair told NYTimes, "I remember him (Weber) putting his fingers in my mouth, and him grabbing my privates," and added, "We never had sex or anything, but a lot of things happened. A lot of touching. A lot of molestation."
Thirteen male assistants and models have also accused Mario Testino of sexual harassment and shared their accounts which are dated back to the mid-90s. They told The Times that Testino requested them for sexual favours which in some cases included groping and masturbation.
However, lawyers of both photographers were 'shocked' by the allegations that were pressed upon them.
"I'm completely shocked and saddened by the outrageous claims being made against me, which I absolutely deny," The Times quoted from a statement Weber through his lawyer.
Law firm Lavely & Singer, which represents Testino, also challenged the credibility of the people who accused the photographer of sexual harassment adding that they spoke with their former employees who were equally shocked by the claims and could not confirm them.
Fashion brand like Burberry was quoted as saying by Independent that they employ a "zero-tolerance policy against any form of harassment, abuse or discrimination" and will not be working with Testino in light of the claims made against him.
Many US brands have also vowed not to work with Weber and Testino in the wake of multiple accusations of sexual harassment levelled against them.
Testino had also visited India to shoot for a special series which included Bollywood actors Katrina Kaif and Sushant Singh Rajput.