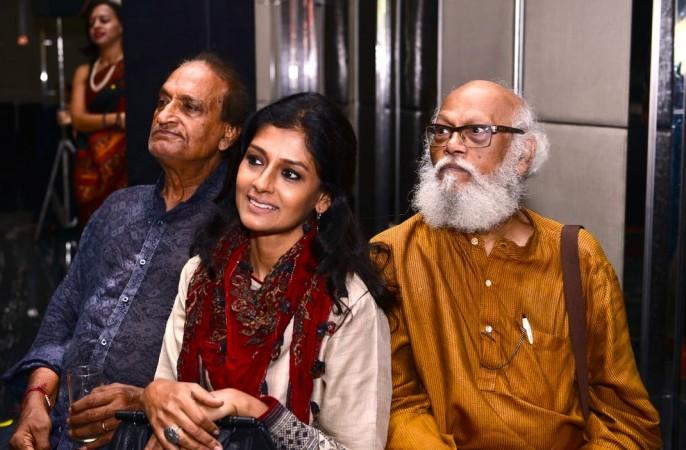 Jatin Das, popular painter, a Padma Bhushan awardee and the father of actor, director and writer Nandita Das, is the latest prominent personality accused of sexual harassment. He is alleged to have forcefully kissed and grabbed a married woman in 2004.
The woman, who has identified herself as a victim named Nisha Bora, took to Twitter to share her ordeal in which she narrated the harrowing details of her sexual harassment experience at the hands of Jatin Das.
At the time of the incident, she was 28-year-old and had been married for a little under a year. She was introduced to Jatin Das by her family over a dinner hosted by her father-in-law at the India International Centre, Delhi.
Jatin Das had offered Nisha Bora an opportunity to assist him to organise his work material to which the fan happily agreed without knowing that she was going to experience a traumatic situation. He called her to his house (somewhere near Asiad Village) on Day 1 where they spoke at length about his pankha project and gave her a beautiful autographed book on the project.
According to Nisha, he called her again the next day at his studio in Khidki Village where Jatin attempted to grab her. She wriggled out somehow but he did it again and managed to get a clumsy kiss on her lips. She pushed him away, picked up her bag and ran home never to speak again about the incident again until now.
Read her ordeal here:
"#MeToo Jatin Das

It's been a long time coming, but here it is. This is for every woman and sexually vulnerable person reading this story. It is not your shame or your guilt, no matter what the circumstances. rnet Jatin Das in the summer of 2004 at a dinner event at the India International Centre, Delhi. The dinner had been hosted by my father-in-law. I was introduced to him by my family. I was 28 years old, and had been married for a little under a year. I was visiting Delhi frorn Bengaluru, and had a few days to spare. Jatin chatted with me for a bit, and asked what I did and whether I had the tirne and willingness to assist him for a few days to organize his work material. I was delighted to say yes. It would be an honour to work with a brilliant artist, to have the opportunity to see and handle his priceless art close up. And to top it all, he was Nandita Das' father. It was a real fangirl moment. I told my family about the conversation, and that I would be visiting him the next day to assist hirn.

Day 1 - He called me to his house (which was in Asiad Village, I think). I recall he had a new born child (by my calculation, must be about 14-15 years now), and that there was plenty of baby bawling. We worked in his work roorn which was near the entrance, and his open verandah of sorts. He spoke at length about his pankha project and his big dream for his art school in Orissa. I did some sorting and organizing work for him. At the end of the day, he gave me a beautiful autographed book on his pankha project, and a poster of one of his solo shows in a museum abroad. At some point of time several years later, I experienced so much trauma looking at this material, I put it in the garbage). He called me back to his studio the next day.

Day 2 - I visited Jatin in his studio, which was in Khidki Village. I don't recall the time of day, but that it was well within daylight hours. He poured himself some whiskey; offered me one too, but I refused. It was a wonderfully cluttered space filled with creative energy. The next thing I knew, he attempted to grab me. I wriggled out of his embrace, flustered. Then he did it again. This time, he managed a clumsy kiss on my lips. recall the feeling of his beard on my skin. I pushed him away, and moved away from him. At that moment, he said, "Come on, it would be nice, Or something like that. I have heard those words quite a bit in my head over time, but they are distant echoes now. What I recall clearly was his disbelief that I was pushing back. I picked up my bag, stepped out into the sun, and ran home. Never to speak about it. Until now.

Day 4 - Nandita Das, his daughter, called me. She introduced herself to me and said that her father had given her my number and could I help her find a young female assistant (like myself). I mumbled something about how I didn't do work 'like that. Today, the brazenness of the man is making me breathless. At that time, I recall that phone call felt like a knife being twisted in my gut, because I had so, so much admiration for her, and it had all become so incredibly filthy that moment. As I read the stories of survivors and their violation, this buried, repressed and ignored wound came right back up to claim its pound of flesh. I've replayed this incident countless times in my head over the past week, and here is what I understand of what happened then.

1) Why me? It wasn't me, it was him. This is something it has taken me all of 14 years to realize.

2) Why day 2? Because I was in his house on day 1, where he didn't have the opportunity. His wife and child were inside. He probably profiled me, saw an opportunity, and had me come back like a lamb to his studio on Day 2

3) Why didn't I out him then? I had been married for about a year. I worked myself into a hole believing that talking about it would make trouble for them, that I had no business disrupting their social equilibrium, that I had somehow landed myself in this spot, and that it was my problem to 'deal with: I felt guilty and ashamed. I was concerned for everybody but myself, and believed, with the foolishness of inexperience, that I could (and should, as a 'strong' woman), 'handle' it.

Here's how I handled it -

I internalized, normalized and embraced it. As I started to remember him and that moment again I looked up his profile - I have more or less avoided all news of him all these years. Here are some facts I found striking. 1. He was awarded a Padma Shushan in 2012. 2. As per an anonymous post on Instagrarn dated October 15th 2018, he violated another woman in 2013. Ten years after me, one year after receiving the country's third highest civilian award. 3. He is older than my father. His daughter is older than me. 4. Every single person from the arts/design/literary world I have spoken to in the past week, has said to me that he is known to be a serial predator 5. My in-laws were our common connection. It did not deter him. In fact, he went on to pass my number on to his daughter. Now, it seems like the theatre of the absurd (mixed with a healthy dose of rage). Then, it had felt like absolute anguish.

Finally, on why I'm doing this now -

1. This moment is galvanizing. It has given me strength and made me look at my wounds, helped me learn and realize a great deal. I am deeply grateful to every woman who has shared her pain.

2. I hope this will give his other survivors some strength to talk about him if they need to

3. My children, 13 and 7 years old, deserve to know unequivocally that they do not need to be diminished by the violence of others. Dearest M and A, if ever you are violated, made uncomfortable, coerced, touched without your explicit consent - always, always know that it is not your 'fault: You know we talk about this often, but until this moment, I have never understood what it meant to 'deal with' violation that takes place behind closed doors, with people you respect, trust or love. It is not your shame, you are not responsible for it. It is NEVER your shame. No matter what anybody says to you or how tough it might seem to believe - it is NOT YOUR FAULT. I love you both. Mummy.

Nisha Bora
October 16 2018

Update: Here is what 1 have learnt from that experience (and countless others). The damage is not just in that instant - because in that instant, your self defense instincts peak. You look for ways to extricate. The less damage you can get away with, the better. The trauma that follows later, in deciphering what the incident meant and what your response should be - figuring out strategies to carry that memory, ways to wire it into your identity, learning to make or not make it a part of who you see in the mirror each day... that is where the trauma is. The impact is lifelong."