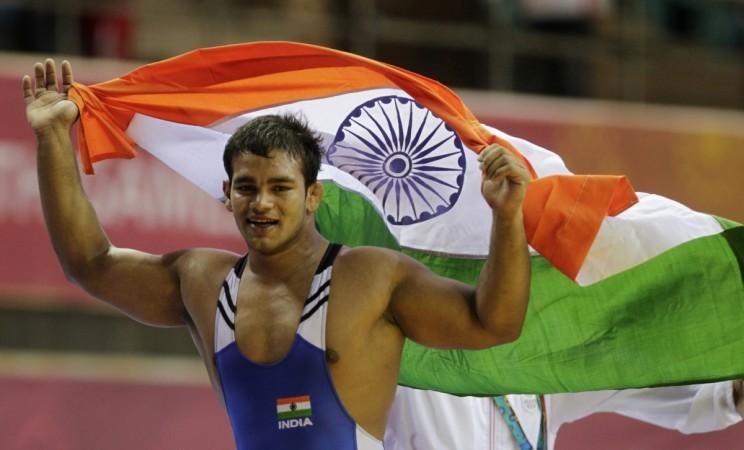 Hollywood action star Arnold Schwarzenegger has used methandienone – an anabolic steroid popular among the bodybuilding circuit despite being banned – several times in his career to build his out-of-the-world muscles. The substance is popular among wrestlers as well but, according to physicians, you have to take it at least six months prior to any competition to be on the safer side.
This is where Indian amateur wrestler Narsingh Yadav got the mega blow, with the Rio Olympics set for a start in just less than two weeks. The man entrusted to represent India in the 74 kg wrestling category in the Olympics 2016 has failed his drug test, causing a huge embarrassment to the IOA (Indian Olympic Association).
Blaming it on someone who has mixed the banned substance in his liquid, the 26-year-old has called for a CBI probe on the matter. However that situation develops remains to be seen, but doctors are really furious on the Indian wrestler for taking the substance just prior to the Olympics, the greatest event in any sportsperson's life.
"No athlete will dare to take steroids this close to competition,'' Dr Ashok Ahuja, an expert who was with the Sports Authority of India's (SAI) medical team for over two decades, told the Indian Express.
"When athletes lean on steroids illegally, this one will be taken in the off-season – at least 6 months before competition. Narsingh has to be really foolish if he took this now when athletes are entering the competition phase. The risk of getting caught is so tremendous because its traces don't leave the body that I find it hard to believe that Narsingh who's not a junior athlete would try it so close to the Games," he added.
Methandienone is a substance that helps in increasing muscle mass and produce explosive strength, but whether it is present in the several range of mass gaining products from the protein supplements brands like Optimum Nutrition (ON) and MuscleTech, openly available in the market, is a debatable topic.
It is being believed that Narsingh was using protein supplements from Cellucor and ON on a very frequent basis to put on mass. "The nature of the drug – outdated and its usage being relatively easy to detect – raises questions about why Narsingh would intentionally take a drug of this kind," mentioned PSM Chandran, former director of sports medicine at the SAI.
While Narsingh may see his Olympics 2016 dreams crash after the sports minister of India, Vijay Goel, announced the wrestler's provisional suspension on Monday, India's berth in the Rio games for the 74 kg freestyle wrestling category could also come to an end. Sushil Kumar also cannot come as a last-minute replacement as the deadline for the participating nations to name their final list of athletes to the International Olympic Committee (IOC) ahead of Rio 2016 came to an end on July 18.