A meteorite that streaked and burst above the Urals mountain region in Central Russia left 400 people injured on Friday.
According to various media reports the meteorite burst at around 9:20 a.m. local time with intense light which left a thick white contrail.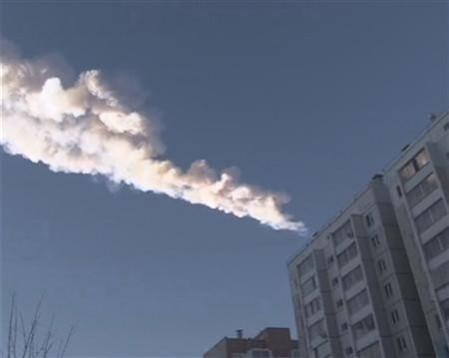 Eyewitness told local media that there was a thunder-like sound that shook the ground and was accompanied by flashes which could be seen above the sky from hundreds of kilometres away.
"I was driving to work, it was quite dark, but it suddenly became as bright as if it was day," Viktor Prokofiev, 36, a resident of Yekaterinburg in the Urals Mountains told Reuters. "I felt like I was blinded by headlights," he added.
Another eyewitness, Andrei, told Reuters, "I was standing at a bus stop, seeing off my girlfriend, Then there was a flash and I saw a trail of smoke across the sky and felt a shockwave that smashed windows."
According to reports, three people were admitted to hospital in critical condition, while several suffered minor injuries which were caused mainly due to broken glass.
Following the explosion, many window glasses were shattered and many car alarms were set off. Reuters reported that mobile phones worked only intermittently.
A spokesperson from Chelyabinsk Zinc Plant said that the one of its wall was damaged but there was no environmental threat.
Russia's state-run atomic agency, Rosatom, said there was no damage to the nuclear facilities in the region and all operations continued as usual. Mayak nuclear plant, one of the largest nuclear facilities of Rosatom, is located in the meteorite affected area.
The report of the meteorite crash in Russia comes at a time when the world is anticipating the newly discovered 2012 DA14 to pass by the Earth on Friday.