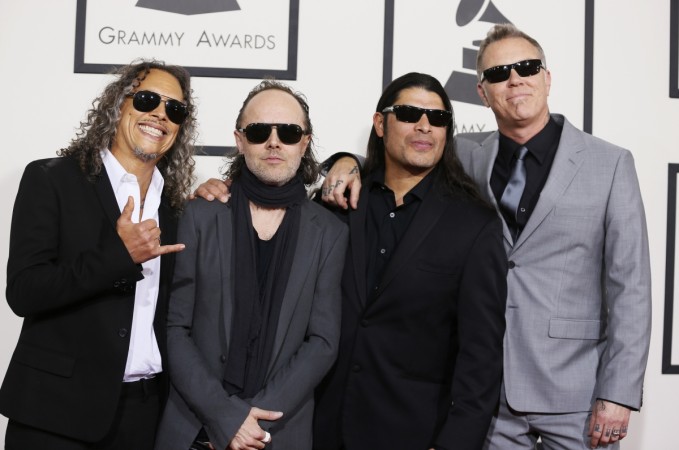 An eight-year-long wait for a new album might have forced many a Metallica fan to think that the American heavy metal band has "faded to black." But now the wait is almost over as the band's drummer Lars Ulrich is the "one" who revealed that the metal giants will release their 10th studio album this year.
In an interview with Billboard, Ulrich confirmed this fact by saying that the production work for the album will be "wrapped up soon." He added: "Unless something radical happens it would be difficult for me to believe that it won't come out in 2016. That's what we're going for. [sic]"
Currently consisting of Ulrich, James Hetfield, Kirk Hammett and Robert Trujillo, Metallica has never taken an interval of eight years between albums after releasing their first record, "Kill 'Em All." So, what is it that made them wait so long? Ulrich clarified: "The way we do things now is very different than the way we did things back in the days of Kill 'Em All and Ride the Lightning. Writing and recording is now something that is part of the bigger picture rather than something that happens exclusively. And when it really comes down to it, the new record may actually have been written and recorded faster than the last one [2008's 'Death Magnetic']. It's just been spread out over a longer period of time, with these gaps in recording."
Expectations will be sky high for the band's upcoming album due to the long gap and also because "Death Magnetic" was appreciated by critics and fans alike.
This year, Metallica will also serve as the official ambassadors of Record Store Day and they have prepared a special treat for April 16, the day of the event. The band will release a live documentary, "Liberté, Egalité, Fraternité, Metallica! - Live at Le Bataclan, Paris." Also on the cards are deluxe and collectors' edition box sets, vinyls and CDs of re-mastered versions of "Kill Em' All" and "Ride The Lightning," their first two records.
Watch the making of the deluxe editions below.