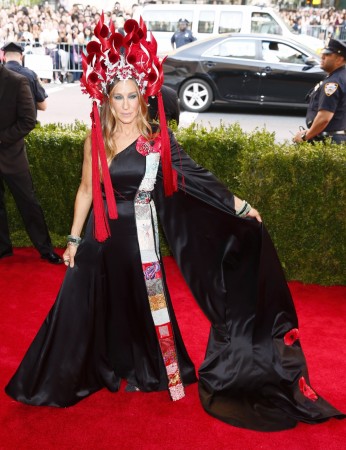 Met Gala 2015 witnessed celebrities from all walks of fame coming together at NYC. This year's event, which was themed "China: Through The Looking Glass", enjoyed its share of interesting moments.
From falls to photo bombs, sexy sheer dress moments to dresses inspiring memes, we bring a few snapshots that we think are worth a chuckle.
Well, now you decided whether to laugh it out or applaud in praise.
Pizza man Photo Bombs Jay Z and Beyoncé:
Latecomers Jay Z and Beyoncé were stylishly posing for a slew of photographers on the red carpet. But when the photos were released, what took the limelight off the glam couple was a mystery man, who accidentally photo-bombed them while holding a slice of pizza. The unsuspecting individual, ducking out from behind photographers, was snapped clutching a sauce-smothered slice of pepperoni pizza.
Dress Me Meme:
Looks like pizza was the most-talked about food at the Met Gala 2015 event. Apart from the photo-bombing incident, pizza was also the hero in the series of memes inspired by Rihanna's dress. The singer's gown along with actress Sarah Jessica Parker's head-dress became an inspiration to several hilarious memes that are buzzing on social media.
Pizzas, condoms, omelettes — the Barbadian beauty's canary Guo Pei robe was the topic of many fan-created memes that went viral online. While some chose to accessorise her gown's long train coat with slices of pepperonis, others altered the red carpet into a frying pan showing RiRi's long train as an egg omelette and a few others juxtaposed her circular train to a coloured condom.
Well, the 27-year-old singer was not alone in this race. Sarah Jessica Parker's Philip Treacy Custom head-dress too had several fans compared the piece to the flame emoji and even cartoon ogre Heat Miser.
What a Fall?
How can it be a 'gala' event when there is no fall? Well, this year, though not exactly a fall, there were rumours that Jason Derulo tumbled down the Met Gala 2015 stairs.
The buzz started doing the rounds when a Twitter user under the handle @dashausofjack tweeted a photo of a man in a white tuxedo tumbling down the stairs and wrote: 'Jason Derulo just fell at #MetGala. LMAO.'
But Derulo debunked the rumours via Instagram while writing: 'Lmao I'm at rehearsal in LA. Fuq ya'll! Lol.'
Sexiest Sheer Moments:
A red carpet event is incomplete without a celebrity making an appearance in that oomphy sheer dress. And this year too some of our sexy ladies decided to bare it 'almost all' and flaunt their curves in the best 'almost-naked dresses.'
No points for guessing, the strongest contenders were Beyoncé, Kim Kardashian, and Jennifer Lopez. While everyone thought that JLo was taking home the award for the sexiest sheer moment, with Kim being a close runner-up, Beyoncé left everyone in awe once she walked the red carpet.
Beyoncé looked radiant in a completely sheer Givenchy Haute Couture by Riccardo Tisci custom-made gown with multicolour crystals and stones strategically placed over her chest, backside and nether regions.
JLo, on the other hand, decided to leave her undergarments at home. The 45-year-old singer stunned in a red ombré dress featuring a sequin dragon design that kept her naughty bits covered.
And Kim Kardashian made sure to put her best assets forward in a Roberto Cavalli gown. The 34-year-old displayed her heavenly figure in a sheer lace gown.
Met Gala 2015 has indeed proved that it's not always 'elevator fights' that make news.