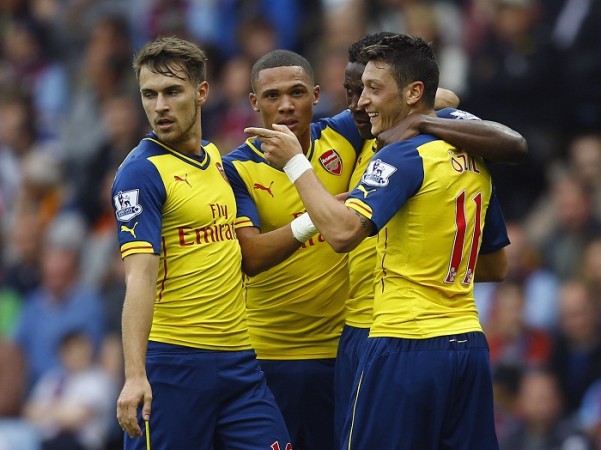 Mesut Ozil is the kind of player who will always be criticised in a league like the English Premier League. After all, the ridiculously easy-on-the-eye playmaker does not "take the game by the scruff of the neck", does not "show enough desire" and doesn't do "enough of his defensive job."
But then, Ozil is not like any other player is he? Which is why Arsene Wenger paid all that money to bring him from Real Madrid on transfer deadline day in 2013.
Having silenced his critics, for a while at least, after his brilliant performance against Aston Villa, where he scored one and set up the other, Ozil fired back at his naysayers.
"I don't play to prove anything to anybody, I play for Arsenal," Ozil told DPA. "I have the feeling that I am criticised more, that happened to me in the Bundesliga and also at Real Madrid.
"We have only just started the season and we have new players in key positions. The collective game, which is something I have a lot to do with, cannot then just work well from one day to the next."
Ozil believes scrutinising and criticising his performances at such an early stage of the season is not the way to go.
"Ten weeks ago I was elected to the team of the season in England [via an internet poll on the Premier League's official website]," he added.
"I was world champion then. It was the summer break and after a few games everything is called into question again. This is strange, but I know what I can offer."
The Germany international came in for heavy criticism following Arsenal underwhelming loss to Borussia Dortmund in the Champions League last Tuesday, with the 25-year-old then answering back in the best way possible – with performances on the pitch.
One man who will not criticise Ozil too much, though, is his club manager Arsene Wenger, with the Frenchman well aware of the talent he has in his hands at Arsenal. The more faith you are likely to put in Ozil, the more likely your faith will be repaid.
"People forget that Ozil played in the World Cup [final] and only came back on 11 August 11 -- it takes some time to come back mentally and physically to your best," Wenger told Arsenal Player.
"The game at Dortmund can happen to anybody. We had a tough, tough match against Manchester City on the Saturday, and Tuesday was very short [in terms of preparation time].
"Everything is analysed today -- you had Ozil, you had Yaya Toure [who was criticised for his performance against Bayern Munich, also in the Champions League], and straight away everyone questions them. But both of them showed on Saturday [Ozil against Aston Villa] and Sunday [Toure against Chelsea] that they are great players.
"The fans are [aware of Ozil's qualities]. I believe everybody wants us to do well and you do well with your players of quality giving that extra-special something to the team. He can provide that. When the team plays well, Ozil plays well.
"If a ball comes out quickly and well from the back, he is always the one who can deliver a quality pass. His quality depends on how well we feed him from the back."