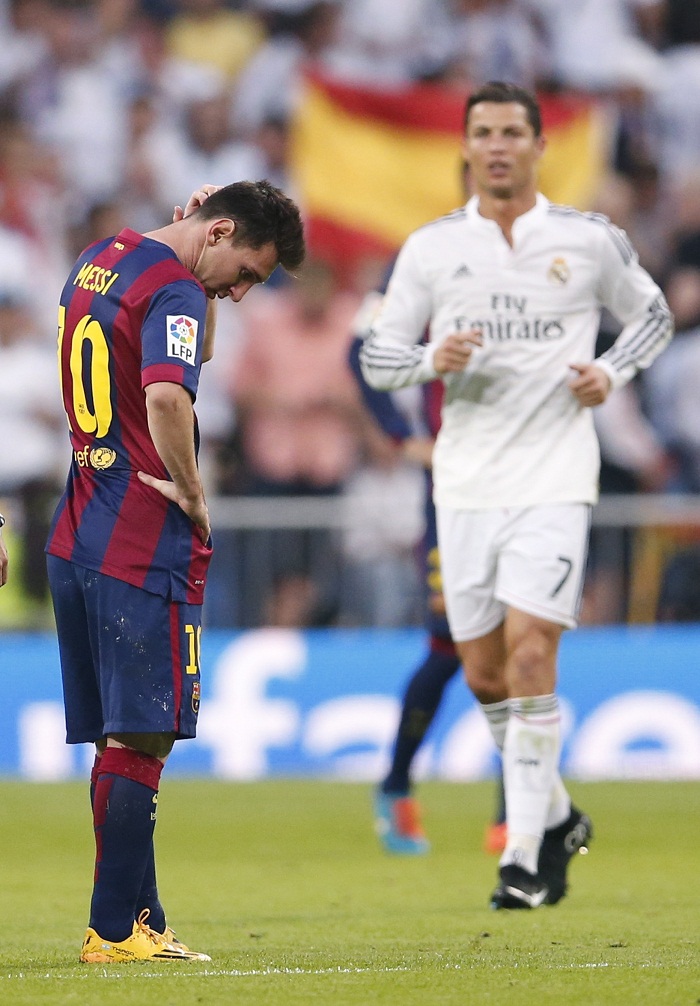 Barcelona star Lionel Messi is reportedly the most valuable player in the world, far more expensive than his Real Madrid counterpart Cristiano Ronaldo.
A study conducted by the International Centre for Sports Studies Football Observatory revealed that the Argentine's current transfer value is much higher than that of the Portuguese forward.
The study, which used an algorithm based on 1,500 club transfers since 2009, and a number of variables including player performances, characteristics and level of achievement at club and international level, showed that Messi is currently valued at €220 million (£173 million), far ahead of Ronaldo, who is estimated to be worth €133m (£104 million).
The difference in transfer value of the two players is really surprising considering Ronaldo was much better than Messi in 2014.
The 27-year-old Argentina captain despite managing to net 41 goals from 46 appearances in all competitions last season, endured a difficult 2014 as he failed to win any trophies with Barcelona and lost to Germany in the final of the World Cup in Brazil.
In contrast, Ronaldo was very successful in 2013/14 as he managed to score 51 goals from 47 appearances to help Real Madrid win the Copa Del Rey and the Champions League crown.
The 29-year-old forward, who has also been very impressive this season, already netting 26 goals from only 15 appearances in the La Liga, is being tipped to win the 2014 Ballon d'Or for a second successive year.
Still Messi, who has managed to net 15 goals from 17 La Liga appearances, is reportedly worth €87 million (£69 million) more than Ronaldo. This difference in transfer value may be due to Messi being two years younger than Ronaldo.
After Messi and Ronaldo, Chelsea's Eden Hazard and Diego Costa are the third and fourth most expensive footballer in the world with an estimated transfer valuable of €99 million (£78 million) and €84 million (£66 million) respectively.
Juventus' Paul Pogba and Manchester City's Sergio Aguero take the fifth and sixth place respectively, with an estimated worth of €72 million (£57 million) and €65 million (£51 million), followed by Liverpool's Raheem Sterling, who is reportedly valued a €63 million (£49 million)
Gareth Bale, who is currently the world's most expensive player following his switch from Tottenham Hotspur to Real Madrid for a transfer fee of €100 million (£86 million) in the summer of 2013, is surprisingly tenth in the list with an estimated value of only €60 million (£47 million).