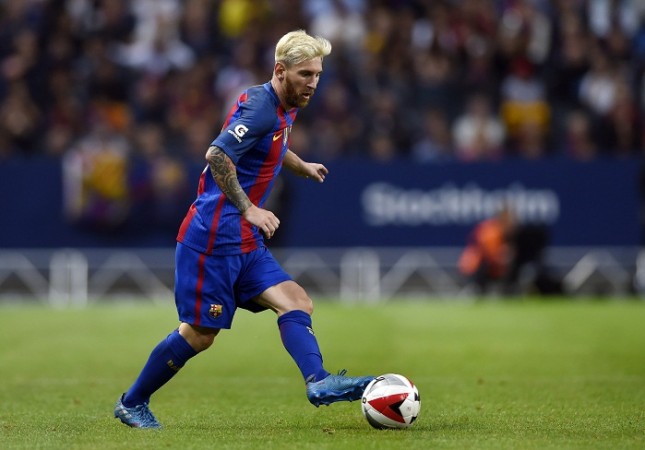 Reports have surfaced like wildfire on Monday that one of the greatest footballers ever to play for FC Barcelona, Lionel Messi, may be on his way out of the Spanish side sooner than we thought. If it does happen, the 29-year-old would join a different football side post the 2017-18 football season. Mark the timing.
Spanish publication Marca, a pro-Real Madrid newspaper, may have given out the biggest scoop in football in recent times. Messi will not be extending his contract and he will only decide on it some months before his contract comes to an end, claimed the Spanish daily. It is also reported that Messi took the decision not to extend his stay further with the Catalan giants in the second week of July this year.
Messi's contract at FC Barcelona runs until June 30, 2018. So what is the reason behind Marca's sudden revelation? Blame it on the star footballer's tax woes in recent times.
Back on July 6, Lionel Messi his father were given a whopping 21 months prison term for for three separate instances of fraud, amounting up to 4.1 million euros. This happened during 2007, 2008 and 2009. Messi joined Barcelona in the year 2000 as a youth player, before turning pro in 2004.
The Argentine forward was thereafter forced to pay a penalty of 2 million euros for failing to declare taxes for the total amount of 10.1 million euros, Messi earned from his image rights.
Something you should watch
What happens now?
Marca has claimed that Messi's decision of not renewing the contract was put forward to FC Barcelona president Josep Maria Bartomeu, by Jorge Messi, his dad. The news came as a shock to Bartomeu, who has said time and again that they would go any length to make sure Messi retires at the Camp Nou, just like club legends Carles Puyol and Xavi Hernandez.
"In two months, we'll start talks with Messi for his contract renewal. I don't know what will happen in the future, but without a doubt we'll always try to explain to him that he is at the best club in the world, that this is the best place for him to live, and that he is having the best experience of his life with us," Bartomeu said in an interview to the The Telegraph earlier this month.
Messi, who has a total of 500 goals in 592 games (including friendlies and official fixtures) for the Catalan club (as on November 14), signed a contact extension for the seventh time with Barcelona in May 2014. What happens next, actually remains to be seen.
We'll be tracking the developments closely. FYI, Messi has a reported 250 million euros release clause.