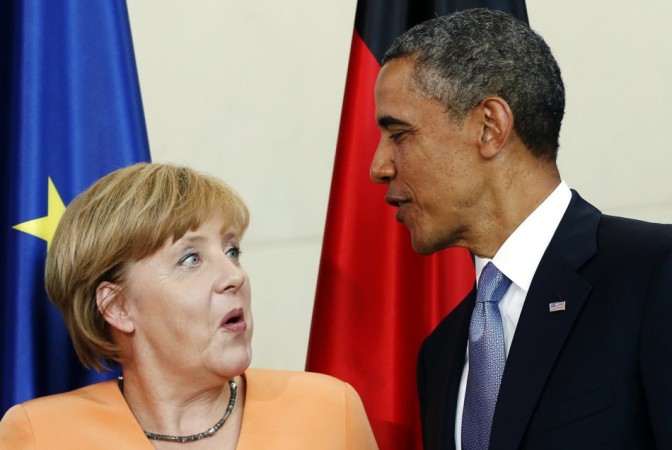 After a turbulent 2013, the American President who had some hard and harrowing times negotiating his stance on the NSA Surveillance, in 2014 is certainly looking at taking damage control measures. On Wednesday, President Obama officially invited German chancellor Angela Merkel to visit Washington.
Barack Obama called Merkel up to wish her a speedy recovery following her injury. The German Chancellor fractured a bone on her pelvis in a cross-country skiing accident in Switzerland.
"The President spoke to Chancellor Merkel today to wish her a speedy recovery following her injury and to congratulate her on the formation of her new cabinet," a White House statement said.
The NSA Surveillance revelations indicated that several European leaders including Merkel may have been spied on by the US government, following which a drift in the relations between US and EU was unavoidable.
In several of her statements in the light of US spying, Merkel had noted that "Trust needs to be rebuilt" and "Obviously, words will not be sufficient." The spying incident had 'severely shaken' relationships between Europe and the United States and Merkel who had been most vocal about her disagreement over the NSA issue had even called President Obama up over the charges. She later had noted "True change is necessary," indicating that US must change its surveillance policies.
Wednesday's phone call is important in the context that a patch up between US and Germany would ensure the resuming of the Transatlantic Trade and Investment Partnership (T-TIP) negotiations. The T-TIP is important for EU countries as it will eventually eliminate both tariff and non-tariff barriers to trade between the US and the EU, a trade relationship that accounts for about 30 percent of world trade.
Even as rumors are rife that Chancellor Merkel has accepted the invitation to visit Washington in the next few months, a confirmation is yet awaited. Merkel's US visit is also important in the context of the NATO summit that will be held on 4 and 5 September in UK.
The NSA Surveillance row is expected to be the main point of discussions at the NATO 2014 summit and US may want to improve its German ties before it faces the other countries.
Since the Snowden leak, much has changed in Washington and in the stance taken by President Obama even indicates certain key reforms in NSA itself. The Merkel visit is expected to be a major boost towards that goal.