RATING: 3
MOVIE: Meri Pyaari Bindu
CAST: Parineeti Chopra, Ayushmann Khurrana
DIRECTOR: Akshay Roy
GENRE: Rom-com
Ayushmann Khurrana and Parineeti Chopra's Meri Pyaari Bindu will take you through a musical journey of the love story of two best friends. But we promise it is not like a typical boy-meets-girl or girl-meets-boy story. Produced by Yash Raj Films, the movie is a light-hearted rom-com with beautiful classic songs.
PLOT
Abhimanyu Roy aka Bubla and Bindu, played by Ayushmann and Parineeti, are childhood friends-cum-neighbours. Bubla is a Bengali guy who has a crush on the South Indian girl Bindu since they first met. The movie shows two phases of their lives – past and present – that go hand-in-hand in the film.
As the movie starts, every Bengali viewer will get nostalgic as it gives a glimpse of Kolkata and the typical Bong parents. Abhimanyu, who starts his journey as a banker, becomes a famous writer of erotic-horror stories, which catapults him to fame. On the other hand, Bindu is shown as an aspiring singer, who faces failure at every step but knows how to live her life.
Abhimanyu aka Ayushmann narrates the story of how he and Bindu became lovers from friends. The interesting part is that each phase of their lives is linked to old classic songs, which will make you yearn for that time gone by for sure. While Abhimanyu is still in love with Bindu, she moves on in her life. Whether the love birds meet at the end or not and how their lives get changed, forms the crux of the movie.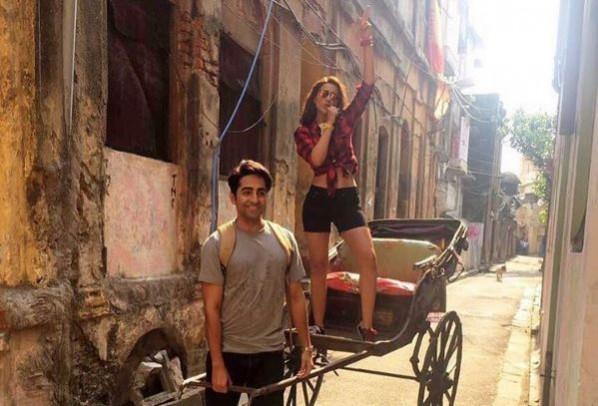 PERFORMANCES
This is Parineeti's comeback to movies in a new avatar after 2014. As Bindu, she not only looks good but also fits the role perfectly. The actress has even lent her voice to many old songs in the film and you will love her more after listening to her. Meanwhile, Ayushmann is as good as always. He has proved his acting talent with every film and Meri Pyaari Bindu is yet another example. Ayushmann and Parineeti's chemistry looks perfect. After Hasee Toh Phasee, Parineeti is back with some good work once again.
POSITIVES
The old songs have been beautifully recreated and Parineeti will touch your soul with her melodious voice. Director Akshay Roy has done a good job and has showed a complicated relationship in a simple way. He hasn't really experimented much with the filming, which works out well as it retains the essence of the movie. Also, the film manages to send you into peals of laughter in parts. Trust us when we say this, Meri Pyaari Bindu has the elements to steal your heart.
NEGATIVES
The movie may be a tad boring for those who are expecting a masala entertainer. It is not a typical Bollywood rom-com. So those who are not up for soft Nicholas Sparks kind of love stories will be bored. The ending might disappoint those expecting something different.
VERDICT
Overall, it is a must watch for those who have not yet forgotten their teenage crush. Also, Meri Pyaari Bindu is one of those movies that guarantee that you leave the theatre with a smile on your face.
Watch the trailer of Meri Pyaari Bindu: