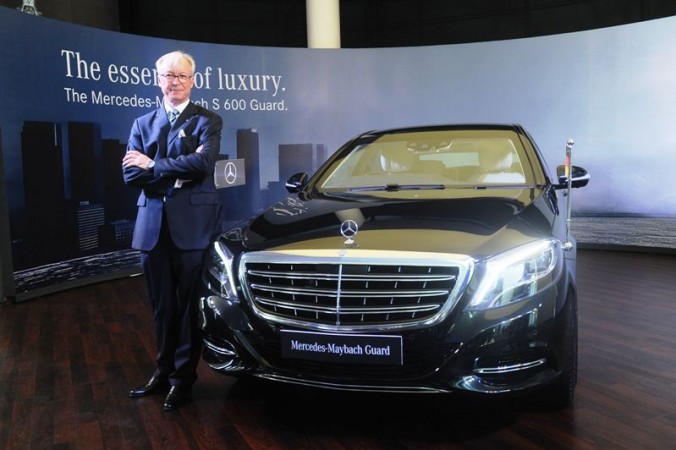 Mercedes-Benz India launched the Maybach S 600 Guard, the high security version of the flagship sedan, in India for a whopping Rs 10.5 crore, ex-showroom Delhi. Aimed at VVIPs, high-profile celebrities, politicians and CEOs of companies looking for more safety and security in luxury cars, the Maybach S 600 Guard features VR10 protection level.
This new special-protection version is the first vehicle to be certified with the highest ballistic protection level, VR10, for civilian vehicles, according to Directive BRV (Bullet Resistant Vehicles) 2009 Version 2.
The Maybach S 600 Guard will be powered by a 5980cc V12 twin-turbo engine that develops 523bhp and 830Nm of torque. The high security version of the Maybach is the most expensive car offered by Mercedes-Benz India.
The guidelines for VR10 specify the bodywork and windows must be able to withstand hardened steel-core bullets fired from an assault rifle. The vehicle also has an ERV (Explosive Resistant Vehicles) 2010 rating. The Maybach S 600 Guard comes with a bodyshell that uses protective components such as special steel integrated into the hollow between the body structure and the outer skin. The windows are coated with polycarbonate on the inside for splinter protection.
In the event of an explosion beneath the vehicle, the new underbody armouring, already tried and tested in the S-Class, covers the underbody of the occupant compartment. The Maybach S 600 Guard is also capable of sustaining a 15kg TNT blast from a distance of 2 metres. The fuel tank isn't armoured in this car. However, it is coated with a special material that automatically seals up any holes in case of a blast. Additionally, the Maybach S 600 Guard comes with an optional fresh-air system that circulates fresh air inside the cabin in the event of a gas attack.