Luxury car maker Mercedes Benz has launched its S-Guard S600, the armoured version of its standard S600 in India with a whopping price tag of ₹8.9 crore (ex-Delhi).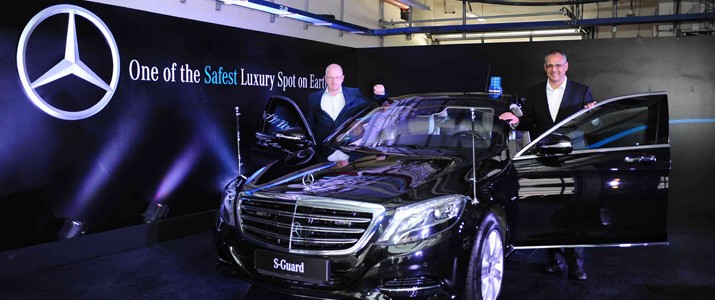 S600 Guard, Mercedes' safest offering, is the third armoured product to be offered in India by the company after E Guard and M Guard. S600 Guard, which comes with protection level of VR9, can handle rifle fire, grenades and explosives .
The car features bullet proof windows and doors and fire and security alarms. The glasses of the Guard are coated with polycarbonate on the inside. The tyres of the S600 Guard can run upto 30 kms even if it comes under attack.
Besides this security features, the Mercedes Benz S600 Guard also accommodates high-end luxurious features like the executive seat in the rear, leg rest and seat heating Plus in the front passenger side and also the energising massage function.
Underneath the skin, S 600 Guard gets V12 petrol engine, which can dish out 530 hp peak power and 830 Nm peak torque.
"With first-class comfort, an outstanding AIRMATIC suspension, powerful V12 engine, intelligent driver assistance systems and unrestricted day-to-day suitability, the new flagship Guard model sets an unprecedented new standard in this segment," said Mercedes-Benz India, Managing Director and CEO, Eberhard Kern.
"This is yet another instance where the best of Mercedes-Benz's enriched global portfolio is being offered for Indian customers. With the launch of the new S 600 Guard, Mercedes-Benz India now provides a formidable range of special protection vehicles comprising the E-Guard and M-Guard, for the Indian market."