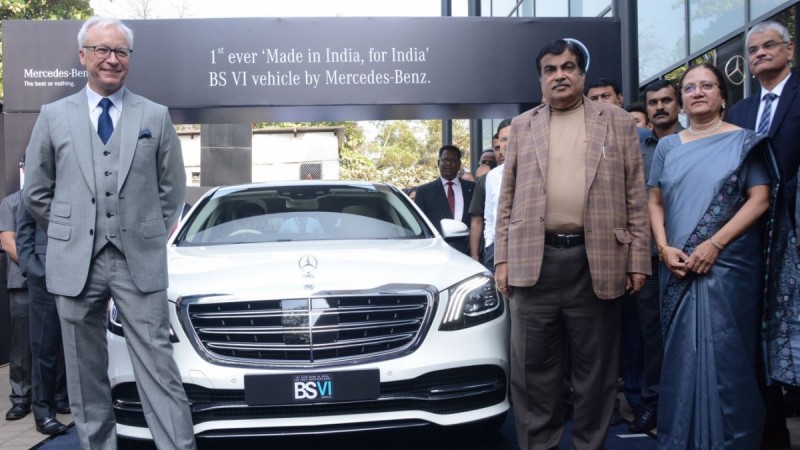 German luxury carmaker Mercedes-Benz has achieved a new feat by launching the first-ever BS-VI compliant vehicles 'Made in India for India'. The Certificate of Compliance to the CMVR (Central Motor Vehicles Rule) for Mercedes-Benz India was presented by ARAI Director Rashmi Urdhwareshe to Mercedes-Benz MD & CEO Roland Folger in the presence of Union Road Transport Highways Minister Nitin Gadkari.
The new S 350d comes with a state-of-art engine and exhaust after-treatment technology such as refined engine, EGR, DPF and SCR. These technological measures help to reduce emissions significantly and meet the BS-VI regulations with huge margins. The S 350d features the most powerful diesel car in Mercedes-Benz history.
Also read: Mercedes-Benz at Auto Expo 2018: Maybach S 650, Concept EQ , E-Class All Terrain and more set to enthrall
The new six-cylinder diesel engine is designed to comply with future emissions legislation (RDE – Real Driving Emissions). All the components of relevance for efficient emissions reduction are installed directly on the engine. The new 3.0-litre, in-line diesel mill is tuned to belt out 286 hp of power and 600Nm of peak torque. The new S 350d is expected to be launched soon in India.
Benefits of BS-VI standards
BS-VI standards are far-reaching in scope and incorporate substantial changes to existing Bharat Stage IV emission standards. In a BS-VI vehicle, the NOx limit reduction is up to 68 percent and PM limit reduction is achieved at 82 percent in BS-VI, compared to that in BS-IV.
Also read: Luxury car sales in 2017: Mercedes-Benz shows its class; BMW, Audi and JLR fight back
Stringent tests related to BS-VI emission norms
The Mercedes-Benz S 350d has undergone stringent emission test related to BS-VI emission at ARAI, Pune and has been certified as BS-VI compliant.
Some of the tests done at ARAI for the certification of the BS-VI engines:

Tailpipe emission test in laboratory – limits lowered to 68 percent to 82 percent as against BS-IV.

Engine power test – BS-VI fuel based test.

Onboard diagnostic (OBD) test – Stringent OBD test.

RDE (Real Driving emission) - On-road emission performance test.