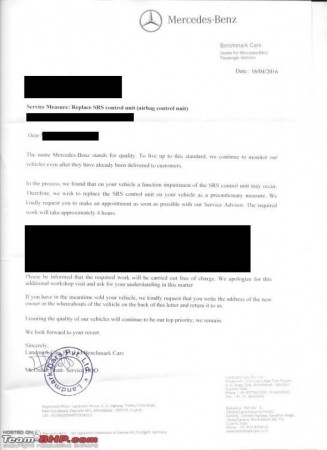 With recall woes continuing to hit the Indian auto market, the latest to join the list is the C-Class sedan of Mercedes-Benz. Mercedes-Benz has started notifying its customers to take back the affected C-Class sedan to its workshops to fix a problem with the airbags.
It is not clear if the recalled models are any particular variants of the C-Class and going by the reports, the recall includes models manufactured between 2008 and 2009. Mercedes-Benz did not reveal how many units of the same have been affected. According to Team BHP, the recall is issued over a faulty airbag control unit. The faulty airbag control unit could lead to improper deploy of the airbags in crash. The replacement of the affected parts will be done at Mercedes' authorised service center for free.
Recently, Ford India also issued a voluntary recall of its Figo twin models — the Figo hatchback and Figo Aspire compact sedan — to fix software issue. The company recalled 42,300 Figo and Figo Aspire, which were affected by an issue with the Restraint Control Module (RCM). The recall included the Figo hatchback and Figo Aspire models, which were being manufactured since the launch until April 12, 2016.