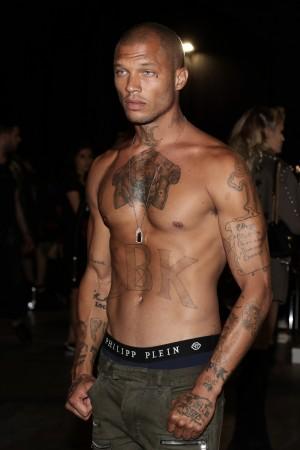 A lot has been written about gender stereotypes in the world of glitz and glamour. However, most of these debates centres around the problem that a woman faces in the industry. On the other hand, we have already forgotten that men also undergo gender stereotype in the same industry. At this year's Paris Men's Fashion Week, designers seemed to have broken many of these judgemental thoughts to come out from the gender manacles.
The pressure on boys—to dress up in macho suits and trousers—is as serious as portraying woman as overly feminine always. Well, how you ever wondered why cant a male model walks the ramp in a sexed-up silk suit, or even go shirtless under the suit. This year's Paris Fashion Week turned up to be the right answer—with the male wardrobe being comprehensively feminised and designers borrowing tips from the woman's world to add more sexiness to the clothes.
The gender lines are getting blurred every year, some even preferred playing rap while displaying their collections. So what made this year's event unique? Heavy floral designs, vast usage of pink, experimentation with typical feminine materials, adding sensuality to designs, usage of floral and delicate materials and floral toile—wait, it was still menswear!
For example, Kim Jones lightened up the Dior Homme with pink and white shirts, coats and bomber jackets laced with light embroidery flowers, and floral designs—all with a dash of feminine elements. While Margiela's John Galliano stepped out of the gender line with silk and satin suits.
Others who agreed with the gender-bending trend includes Paul Smith, Lanvin, Purist, Raf Simons and any more. Having said that, we still have a long way to go if gender stereotype or equality is the key. And, we are sure that the fashion industry has the power and influence to take this movement in the right direction.