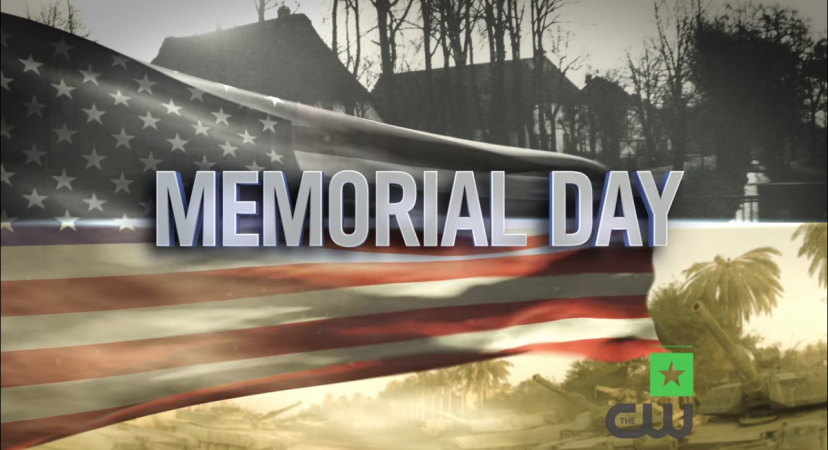 The CW will air a special Memorial Day 2015 programme on Monday, 25 May, at 8.00 pm (EST).
Titled as "Memorial Day", the programme shows a young boy, who represents the current generation, who is unable to understand what he is supposed to remember during this annual holiday. His grandfather agrees to tell him the story behind the special day and goes on to explain the complexities of war to him.
Although Memorial Day is a federal holiday in the United States, very few know how and why it is commemorated.
The last Monday of the month of May was formerly known as "Decoration Day", as after the American Civil War the Union and Confederate soldiers who died in it used to be commemorate on the day. However, by the 20th century, the day was observed to remind every American of those who died while in the Military service.
Americans usually celebrate Memorial Day with a number of parades, featuring marching bands and a military theme. The National Guard and other servicemen participate in the parades with veterans and military vehicles from the wars America took part in.
To commemorate Memorial Day 2015, here are some inspirational quotes, messages, and poems:
Quotes
"My fellow Americans, ask not what your country can do for you, ask what you can do for your country." - John F Kennedy, 35th President of the United States.
"I only regret that I have but one life to give for my country" - Nathan Hale, a soldier for the Continental Army during the American Revolutionary War.
"I have long believed that sacrifice is the pinnacle of patriotism." - Bob Riley, 52nd Governor of Alabama
"The patriot's blood is the seed of Freedom's tree" - Thomas Campbell, Poet.
"On Memorial Day, I don't want to only remember the combatants. There were also those who came out of the trenches as writers and poets, who started preaching peace, men and women who have made this world a kinder place to live". - Eric Burdon, Singer-Song Writer.
Messages
The story of America's quest for freedom is inscribed on her history In the blood of her patriots. They hover as a cloud of witnesses above this Nation. On thy grave the rain shall fall from the eyes of a mighty nation. Happy memorial Day!
M - is for the Mothers who sent their children off to war
E- is for the Everlasting gift of freedom
M- is for the Mums that decorate the graves of brave soldiers
O- is for the Old veterans
R- is for Revolutionaries that braved enemies' threats
I - is for the 'I' the soldiers thought last about
A - is for America, the home of the brave
L - is for the Land of the free.
Happy Memorial Day!
Poems
"Rest in Peace" by John Posey
I hear voices and see faces
Of warriors who died in faraway places.
Some gave their all, all gave their best.
When they were judged, all passed the test.
As I sit here alone on this bench by the lake
I wonder just what chances I'd take.
Would I show valour on fields of battle
Or would I display fear and nerves that were rattled?
Spirits still roam this hallowed ground,
So I stand and listen to every small sound.
And just as I leave I hear a faint sound
Of taps being played over each burial mound.
"Remember Me" by Edwin C Hofert
A soldier gives his life in battle his spirit is set free.
His body finds a grave his soul cries remember me.
Remembering this moment that I first met my doom.
Remember me, a baby forming in my mothers womb.
Remembering first steps I took remember times I fell.
Recall my dreams of heaven and each moment spent in hell.
Remember mountains that I faced before I answered duty's call.
Climbing trees and skinned up knees I dreamed I'd climb them all.
Remember times of courage lessons learned and lessons taught.
Remember me for good times before my last fight was fought.
Remembering your freedom and that freedom don't come free.
I ask so little in return when asking you remember me.
Not a body in a grave somewhere, a wooden cross stuck in the dirt.
A sister or a brother too with U.S.A. stitched on my shirt.
Remember so it's not in vain the life that now is through.
Remembering the blood that spilled still runs red white and blue.