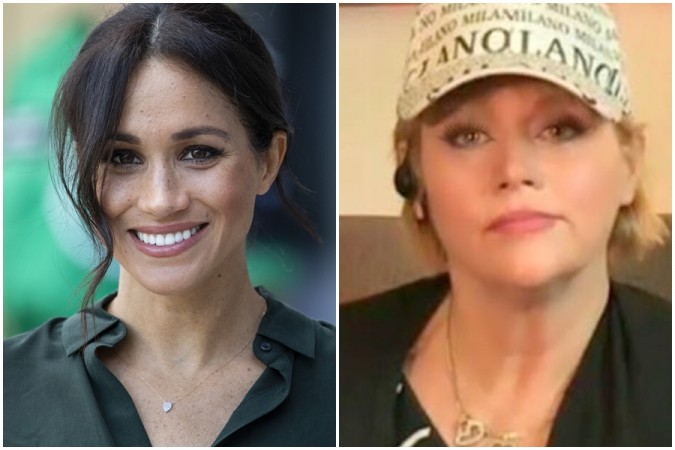 Meghan Markle's half-sister Samantha Markle recently went directly to the Kensington Palace to meet the Duchess but the security refused to let her in and requested her to go back.
The 53-year-old has been in London for about a week now. She has also gone on air to talk about the Duchess and requested her to meet so they could talk about their father's declining health condition.
On Saturday, Samantha decided to show up at the Palace uninvited to try and talk to Meghan, according to E!News. She was in a wheelchair being pushed by her partner in front of the Palace gate.
According to the British media, Samantha had a "stand-off" with the security at the entrance and she was told to go back. In the photos released by the press, her partner was seen handing a letter to the guard before turning away with Samantha.
She soon took to Twitter and wrote, "Everybody would love to know what's in that letter."
A source told The Mirror, "This was a huge move on the part of Meghan's sister to try to see her face to face and the fact she was turned away speaks volumes. This is the closest Meghan has come physically to that side of her family since she married into the royal family but palace staff had clearly been instructed not to allow her access."
Meghan doesn't seem to respond to Samantha's requests as she has been bad mouthing her and her husband Prince Harry on social media since their wedding. After many failed attempts at getting in touch with Meghan, Samantha decided to come to London to confront her about a few things on her mind.
On arriving, Samantha gave an interview for Britain's Channel 5 last week, during which she said, "I've always wanted to see London, but really I wanted to make the trip and sort of speak the wishes and thoughts and sentiments of my father, and hopefully get a message to my sister."
Samantha wants to tell Meghan that it's "water under the bridge" and acknowledge the fact that things between them got "out of control." "I wish things could be different", she said.
But on Sunday she blamed the Royals yet again for their behaviour towards Thomas Markle. "Dad only spoke out because he was being ignored and disregarded. My sister and the Royals handled things wrong and everybody knows it," she wrote.