Ever since her royal wedding to Prince Harry in May, Meghan Markle has been facing problems from her family members—sometimes it is her father's bombshell interviews, sometimes her sister's rude comments about her personal life and sometimes her past incidents.
The British royal family, who always prefers in keeping their private life intact, is apparently unhappy with Meghan's father Thomas Markle and half-sister Samantha for opening up about Meghan's past to the media many a time. Though the Duchess seems to have cut all the ties with her father and estranged siblings, trouble seems to be brewing in her paradise continuously.
The pre-wedding drama: It all began when Meghan's father Thomas Markle staged a series of paparazzi photos which showed him preparing for the royal wedding. A section of the media also alleged that Markle Sr would have profited £100,000 from the show.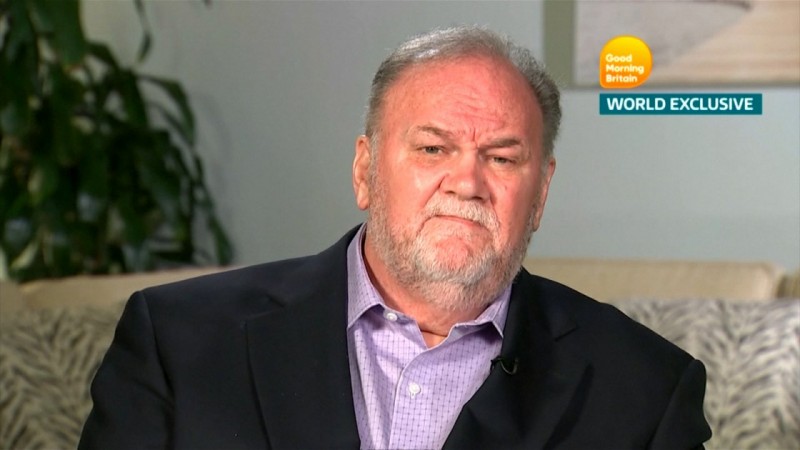 The bombshell interview: The big drama came when the former lighting director appeared on British television channel for a surprise interview. The interview took a political turn when he decided to share details about his personal conversation with Harry on phone. He revealed that Harry was willing to experiment with Berxit and give Donald Trump a chance.
The British monarch, which is often considered to be apolitical usually stays away from the public expression of their political views and opinions. However, Thomas revelation has truly brought a chaos in the royal palace. The 73-year old further added that the Duke and Duchess of Sussex are planning to have children soon.
The entire interview seems to have not gone well with the royal family. There were reports that Meghan's husband Harry and the Queen too is furious over the interview.
Taking a dig at Queen and Princess Diana: A shock after another, quite literally! Within a week after the bombshell interview, Markle Sr made another remark, now this time against the Queen. e blasted the monarch head for agreeing to meet US president Donald Trump.
"If the Queen is willing to meet our arrogant and insensitive president she has no excuse not to meet me, I'm nowhere near as bad," he was quoted saying. But the drama didn't end there.
The 74-year old created another trouble for himself and Meghan too after dragging in Princess Diana's name. He opined that Harry's mother Diana would have hated the way the royal family has treated him and also added that Meghan will following the late Princess' footsteps in modernising the royal family.
"Princess Diana is credited with changing the Royal Family, but she wasn't perfect. She was still very much one of them. I think Meghan's the one who'll bring them into the 21st Century if they'll let her," he said.
The Samantha Grant interview: Next to cash on Meghan's royal fame is her estranged sister Samantha Grant now known as Samantha Markle. Apart from openly accepting that she is 'cashing in' on the royal family, she also claimed that if anything happens to Thomas Markle, Meghan would be the sole reason for it.
She also launched a series of Twitter rant—from calling her a Witchity Poo and comparing her to Cruella de Vil—against the Duchess for ignoring Thomas.
Thomas Jr's controversial letters: Remember, Meghan's half-brother Thomas Markle Jr penned an open controversial letter to Prince Harry (days before their wedding) urging him to cancel the royal event. However, he later backtracked on the issue and claimed that Meghan is "the best thing to happen to the Royals."
Well, for sure it looks like the Duchess of Sussex has a long way to go!