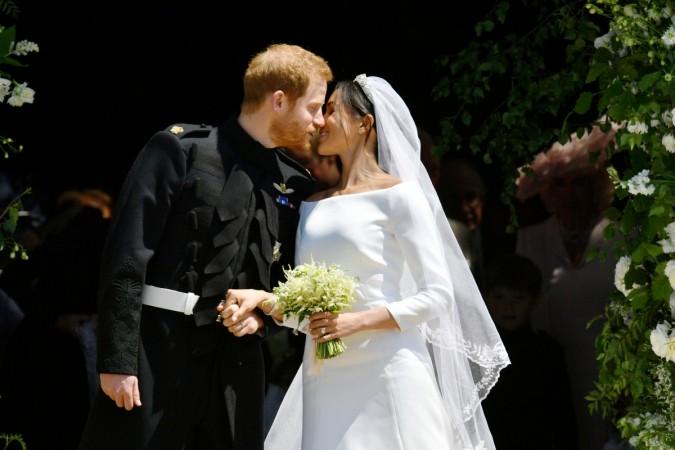 The 'royal trouble' seems to continue for Meghan Markle. Ever since her wedding with Prince Harry, the Duchess of Sussex has been putting her heart and soul in perfecting the royal protocols. Despite her serious efforts, Meghan seems to be missing few important notes.
Meghan appeared at her second event with the Queen at the Buckingham Palace on Monday. The duo attended the Reception for The Queen's Young Leaders, an event to find exception young people from the Commonwealth nations. Harry and Meghan are the youth ambassadors for the Commonwealth.
Clad in a pink Prada dress and a black handbag, Meghan's charm and elegant looks immediately caught the attention of the shutterbugs. However, minutes after the event began, royal eye-watchers noticed that the Duchess of Sussex sat with her leg crossed on the left-hand side of her husband. Interestingly, the position is rarely adopted by the royals, especially the women.
The royal women usually sit either with slating legs or crossed at the angle. Interestingly, Kate Middleton has perfected the slanting legs pose—it is now dubbed "the Duchess slant" named after her. Maybe, it is high time for the Suit actress to get some tips from the Duchess of Cambridge.
Meanwhile, fans across the globe too posted their comments on the on the Royal Family's Facebook page. One fan wrote, "Duchess of Sussex has her legs crossed wrong. What a disrespect to the queen. All royal ladies cross at the ankles or put both legs off to the side."
While another fans defended the former actress, "Let's focus on the wonderful honourees and NOT legs , dresses or etiquette - these young people deserve more focus."
Another fans said, "Meghan can cross her legs how she likes, nothing to do with protocol, most Royals do the 'Duchess slant' because they were taught that from an early age, Meghan is her own woman!"
While Meghan is already in trouble after her father Thomas Markle's bombshell interview with the British media followed by criticism against Queen for agreeing to meet Trump, and now these protocol snubs are likely to add more smoke to the fire.