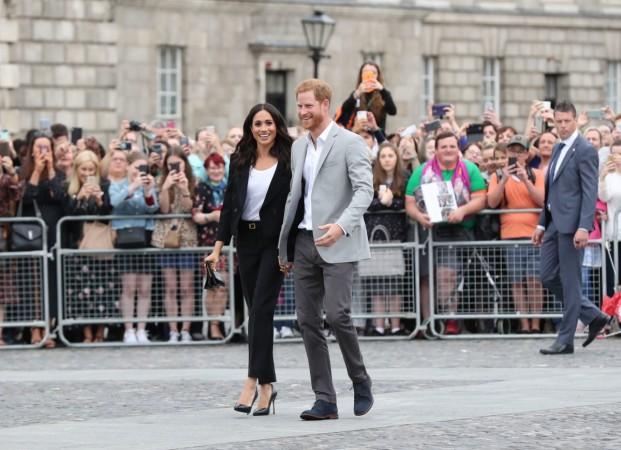 Prince Harry's Tuxedo ban for Meghan Markle is the latest news doing the rounds from the royal palace. Harry was apparently not happy with Meghan's dressing style as he feels it is "not in line with the royal tradition."
During the couple's official visit to Ireland last week, Meghan was seen in an all black suit and stilettos. And the next day she chooses to wear a two-piece black tuxedo suit. Looks like both has not gone well with Harry. Sources from the palace report that Harry has instructed Meghan to dress like a royal as her sartorial choices are more of Hollywood kind. The couple is gearing up for their Australia visit and she has been strictly instructed that her tailored-fit suits are not traditional enough for the tour.
It has been reported that Meghan is unhappy with the interference as she has selected a number of suits for her upcoming royal visit. There are also reports that Queen is uncomfortable with women wearing trousers. Will Meghan bend to royal protocols or will she be tagged as the new royal rebel?

Interestingly, one royal family member who loved wearing tuxedos is Lady Diana. She was often seen in black and white suits attending events and parties. A daring version at a Genesis concert in 1984 made headline worldwide. Indeed, Meghan, who has always been vocal about various women's issues, seems to be following her late mother-in-law's footsteps. Even at a recent public occasion with the Queen, the 'Suit' actress refused to wear a hat—which led her father-in-law, Prince Charles, to nickname her as 'tungsten' (a metal that refuses to yield to pressure). Diana often dubbed as the People's Princess, always spoke from her heart. Probably, Meghan could take cues on how Diana handled the media with ease during her stint as the princess.