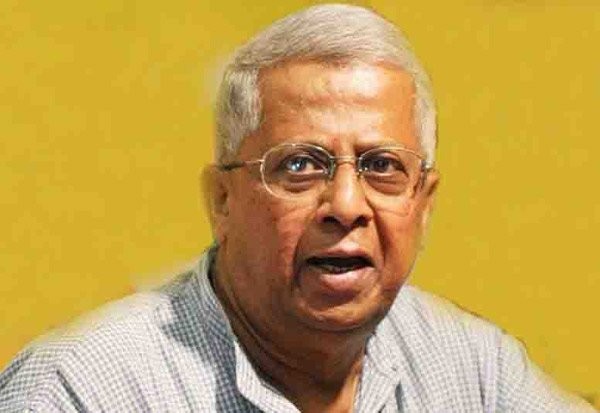 In a shocking display of hate, Meghalaya Governor Tathagata Roy has called for boycotting 'everything Kashmiri', including the Amarnath Yatra, following the Pulwama terror attack. Later, Roy also responded to the criticism that he faced on Twitter and said that he stood by his words.
"I am not asking to blind or kill Kashmiris. I am simply saying that we should use a non-violent way to express our resentment. Can't I express my own opinion? Is there any constitutional provision or any Indian court directive which prevents me from saying so? I haven't done anything wrong legally," Roy told Quint.
He had earlier tweeted a statement of a retired Indian Army colonel which said that all things-Kashmiri should be boycotted and no one should visit the valley for Amarnath pilgrimage for next two years.
An appeal from a retired colonel of the Indian Army: Don't visit Kashmir,don't go to Amarnath for the next 2 years. Don't buy articles from Kashmir emporia or Kashmiri tradesman who come every winter. Boycott everything Kashmiri.
I am inclined to agree

— Tathagata Roy (@tathagata2) February 19, 2019
Twitter calls for sacking Tathagata Roy
The Meghalaya Governor's tweet sparked a lot of criticism on social media with many calling it as an act of xenophobia or dislike/ prejudice against a particular community. Some political leaders also called for the sacking the Meghalaya Governor over his controversial remark and driving to divide India into communal lines.
Deplorable statement coming from the Governor of Meghalaya. GoI must sack him immediately . If they fail to do so, it means he has their tacit approval and are using it as an election ploy to polarise the situation. https://t.co/AQE0e1akUH — Mehbooba Mufti (@MehboobaMufti) February 19, 2019
These are the bigots driving Kashmir over the abyss. While you are at it Tathagata why don't you stop using our rivers to generate your electricity as well? https://t.co/BS1zAG78Xx

— Omar Abdullah (@OmarAbdullah) February 19, 2019
Dear @rashtrapatibhvn & @PMOIndia: Calling for a boycott of fellow citizens by a constitutional authority is unacceptable. This incitement is intolerable. You must sack Governor Tathagatha Roy. Immediately! https://t.co/6g8uXVSpyj — Salman Anees Soz (@SalmanSoz) February 19, 2019

This is shocking beyond words. A Governor of an Indian state promoting such bigotry against the citizens of another state of India. Cannot the Prime Minister or the President put a stop to this? https://t.co/aZzkplUDBe

— Ramachandra Guha (@Ram_Guha) February 19, 2019
Tathagata Roy, the Hon'ble Governor of Meghalaya must resign or otherwise be sacked since he in a constitutional post where he can't indulge into activities which are not in consonance with his post. He is indulging into cheap Kashmiri politics.

— Manmeet (@msgoindi59) February 20, 2019
This man is a serving Governor. He forgets that Kashmir and Kashmiris are not India's enemies. This man is a hate-monger and the real anti-national. A disgrace to the Constitution he swore an oath to. He deserves the sack. #SackTathagataRoy https://t.co/Cn6LwyDd3j — J M G (@NotVeryFunny511) February 19, 2019