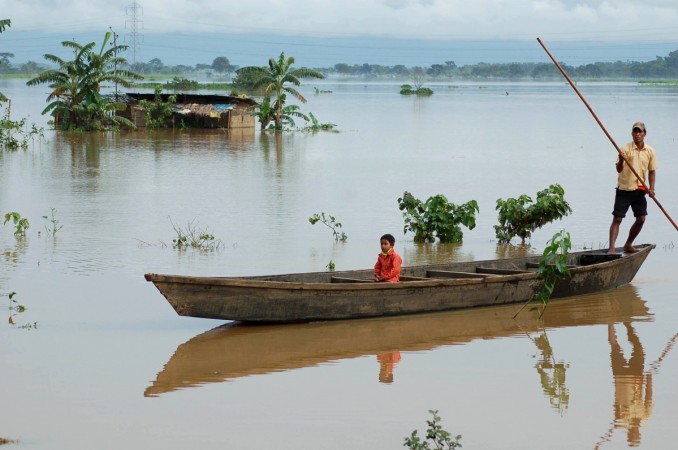 Last week's cloudburst that lasted for three days generating flash floods and landslides in Meghalaya, claimed the lives of at least 52 people and brought the state back to where it was ten years ago -- devoid of major developments, roads and concrete houses.
"There is so much we need to do now. We have moved back ten years in our development programme due to the flood as major areas have been devastated by the floods. Everywhere we went there were only sad stories to tell," NDTV quoted Meghalaya Chief Minister Mukul Sangma as saying.
While the flood water has now started receding, villagers affected are rather worried and concerned about getting their lives back on track.
Garo Hills is among areas that have been severely hit by the cloudburst. It has witnessed most deaths and destruction of properties such as road, houses, livestock and agriculture worth ₹2000 crore. Those who moved on to safer places and survived have lost their homes, which were washed away in floods and heavy rains.
One among the several severely affected regions is Bholarbitha village that had 300 houses in all, of which 80% have been swept away in torrential rains.
Brahmaputra's tributary Jinjiram river has not only engulfed Bholarbitha village, but has in total swept away over 1,100 villages in 27 blocks in the state, The Indian Express reported, adding that over 1,000 people are now staying at shelter camps provided by the state government.
The villagers who resided along the river banks have now demanded stronger embankments so that their houses remain unaffected, if the village ever witnesses another massive disaster. They have also asked for immediate relief and settlement.
"To build a stronger embankment in the plain belt area of West Garo Hills, we have to relocate people who live adjacent to river. We have to convince people to live in safer areas, so that embankment can be built," Sangma noted. .