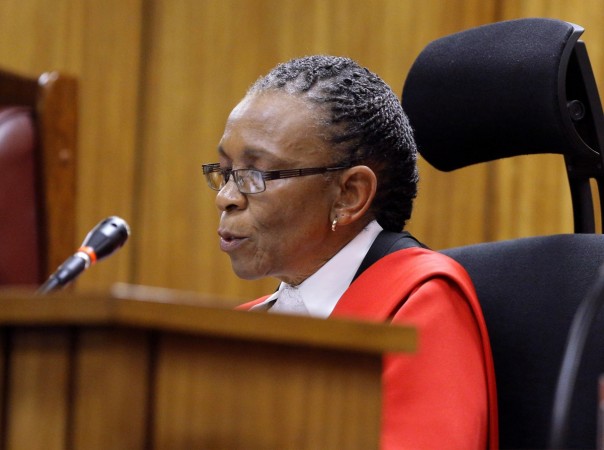 As the world followed every little development in the high-drama Oscar Pistorius murder case, all eyes were fixed on Judge Thokozile Masipa on Thursday as she painstakingly revisited the entire case to rule that the blade-runner was not guilty of murdering his girlfriend.
The fact that Masipa, the second black woman to have been appointed as a judge in South Africa, held world-famous athlete Pistorius' fate in her hands, showed a good sign of how far the nation has come from its days of apartheid.
In fact, the now 66-year-old black judge once worked as a crime correspondent for a newspaper in the 1970s, when she actively covered the tumultuous struggle in the South Africa against apartheid, according to The Telegraph.
Interestingly, she used to live in close distance to South African human rights legend Nelson Mandela in Orlando East, Soweto. Her childhood was shrouded in poverty and struggle, and as the eldest of ten siblings, she saw five of them die in childhood, and one of them stabbed to death, as reported by The Independent.
At 29, Masipa was put behind bars for her participation in a march for press freedom. Her night in prison is reported to have shaped her attitude towards human rights and justice, The Telegraph reported.
Masipa then turned to law, and graduated from the law school at the University of South Africa in 1990, at the age of 43.
She became a judge in 1998, emerging as one of the first and few black female judges in the nation.
Over the years, she has come to be known for doling out harsh punishments on occasions, especially in cases of female victims. She had punished a serial rapist last year with a staggering 252-year prison term, while she sentenced a former prison officer to be life behind bars for shooting his wife.
This year, through the highly-publicised Pistorius case, Masipa remained calm and impassive, giving little indication of which way her judgment would swing till the moment she actually uttered the words, acquitting Pistorius of murder charges.
She is, however, yet to announce her final verdict - whether the blade-runner will be charged for culpable homicide, or whether he will walk free.