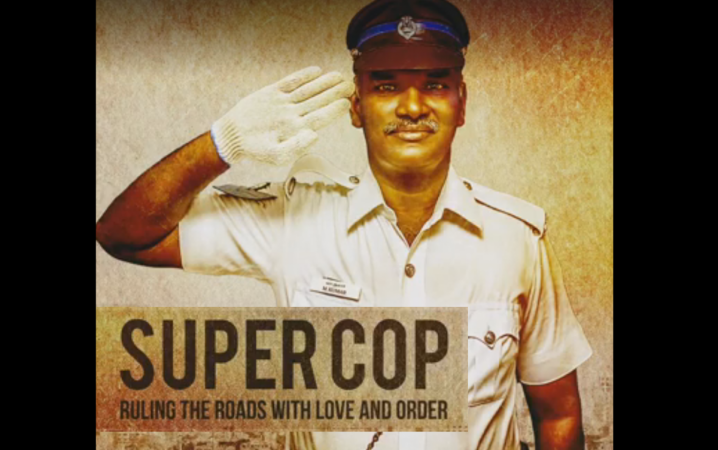 Facing heavy traffic while commuting to workplace makes each one of us tired, but have you imagined how tough it would be for traffic cops to man such busy roads? While it is a not-so-welcoming job for many, a cop in Chennai has been inspiring hundreds of commuters with his pleasing gestures everyday.
In a three-minute-video titled, "Super Cop Ruling the roads with love and order", posted by Big short films on its Facebook page, a traffic cop in Chennai named Kumar is seen controlling the traffic at OMR-Sholinganallur signal in a rhythmic motion as if Prabhu Deva were performing on the road.
"Everyday at my signal, the people who pass through it should have a safe day - while they go to their offices and return home safely. That's the prayer with which I start my day. In the field, I consider myself as a teacher who must maintain the attention of the people. To do that, I wear the hand gloves, whistle loud, act dynamic and keep a smiling face at them," Kumar is heard saying in the video.
Kumar states that he considers each commuter as his customer. "Today everyone at the signal greets and smiles at me, and get on with their lives happily. If you are not showing love to the people around you, how will you show the love to God whom you haven't seen yet?" he asks.
The cop, who has a 22-year-long service with the police department, claims that he has maintained 0% accident record till date and makes sure that the people's lives go on smoothly whether he is under the sun or the rain. "I stand there on a wartime basis to do my duty. I love the work assigned to me and I will do it with all my heart. Everyday when I finish my duty, I will be satisfied to know everyone went to office and returned home safely. That satisfaction makes my day," Kumar said.
The video, which has now gone viral on social media with more than 44,000 views within two days, has also been garnering praises from social media users for Kumar's inspiring life story.
Senthil Kumar: very enthusiastic person, will see him daily,,.. i would say others should learn from him... hats off to u :) long live..
Hari Ram: Enthusiasm personified
Gokul Raman: Hats off sir. Work is worship. He is a living example
Sampath Kumar: Best example of a man doing a bore some routine job, making it more interesting, because he loves what he does
Watch the video here: