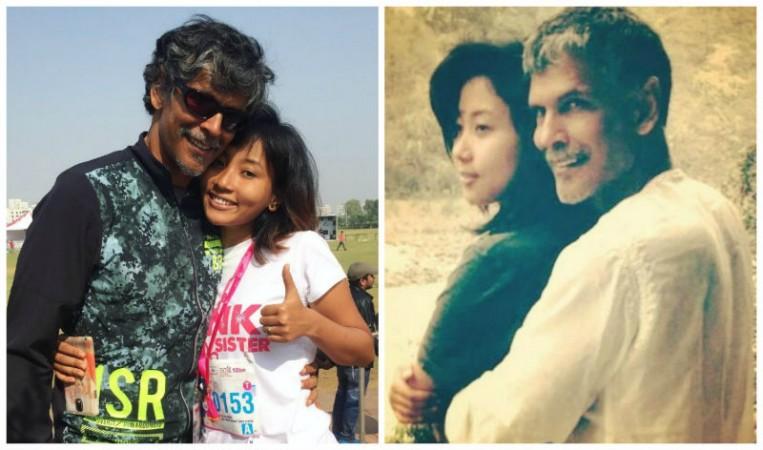 Supermodel-turned-actor Milind Soman is 51 years old, but the handsome hunk is still capable of making many women, even those less than half his age, go weak on their knees.
Proving as much, Milind is currently dating an 18-year-old girl.
Milind attended the Spring-Summer 2018 edition of Amazon India Fashion Week (AIFW) where he was reportedly spotted walking hand in hand with girlfriend Ankita Konwar.
Milind also put up a selfie on social media sharing the frame with his newfound love. Ankita reportedly is 18 and an airhostess by profession. The two also share a love for marathon.
Reports even claimed that Ankita meets Milind's mother as well. The two have been dating for months now.
The "Made In India" song video-famed hunk has till date uploaded a number of photos with captions that confirm his relationship with Ankita.
The reactions to this rather unusual couple from fans have been mixed. While some loved the pairing, some others are envious, and some tried to troll the two calling them father-daughter. Milind, meanwhile, is not someone to pay attention to the negative comments.
Here are some of the reactions from fans who tried to troll the couple, calling them father-daughter.



However, most of them talked positively about their relationship.

Milind had earlier married Mylene Jampanoi, his French co-actress in the movie Valley of Flowers in July 2006, after dating Madhu Sapre for quite some time. However, the marriage did not last long, and the two had gotten divorced in 2009.
Before meeting Ankita, Milind had reportedly dated another woman, about whom there are not many details. However, they both look to be really happy together.
Check out some photos of Milind and his girlfriend Ankita:
Another Bollywood celebrity who had some time ago appeared in the news for dating someone almost half of his age was filmmaker Anurag Kashyap.
The director had grabbed attention by posing romantic pictures of him and 23-year-old Shubra Shetty.
Shubra reportedly works in Anurag's production house Phantom Films. The two had been dating for over a year now, and are in a live-in relationship. Truly, love has no boundaries, and rightly so.