Amitabh Bachchan's granddaughter Navya Naveli Nanda has finally given a shout out to the world that she has found the love of her life. The 20-year-old on Wednesday, May 9, uploaded a cosy picture with her boyfriend Meezan Jaffrey on Instagram. She painted it with a big heart saying 'love you' and used #RelationshipGoals.
Navya just captioned it with two lovely hearts. In the picture, Navya is seen leaning over her boyfriend who wrapped his arm around her.
Her fans became curious as they wanted to know about the man she is currently dating. They started asking her who the lucky guy was. One of her fans thought Navya has got engaged and asked her whether the man in the picture was her fiance.
In fact, Navya had been spotted with the same man on several occasions. She was pictured with him at one of their friends' birthday party. Earlier, she was spotted with him on a movie date in June last year. The young man was taken aback after seeing the paparazzi outside the cinema hall. He tried to hide his face with his shirt while Navya seemed pretty relaxed with all the media attention.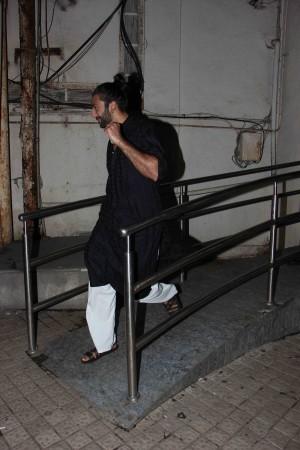 Navya Naveli Nanda is the daughter of Shweta Bachchan Nanda, the elder daughter of Amitabh Bachchan. She keeps the internet ringing with her stunning pictures. Earlier, she was rumoured to be dating Shah Rukh Khan's elder son Aryan Khan who happens to study in the same Sevenoaks School in London.
While her fans are trying to dig details about Navya Naveli Nanda's boyfriend, let us disclose his identity for you.
His name is Meezan Jaffrey, actor Javed Jaffrey's elder son and he is 22 years old.
He has been trained in theatre and martial arts.
He is also a trained dancer.
He has completed a four-year course in filmmaking from New York and often visits India during holidays.
He has also assisted filmmaker Sanjay Leela Bhansali in his 2015 magnum opus Bajirao Mastani which features Deepika Padukone, Ranveer Singh and Priyanka Chopra in lead roles.
He will now be making his debut in Bollywood with Bhansali's upcoming untitled film.
The tall and handsome man reportedly bagged the role after he impressed Bhansali with his dancing and acting skills during an audition. The movie will be directed by Mangesh Hadawale who has earlier directed critically acclaimed films like Tingya and Dekh Indian Circus.
As a concerned parent, Shweta Bachchan Nanda -- daughter of Indian megastar Amitabh Bachchan -- had last year reacted strongly when her daughter's personal photographs with friends started getting circulated on social media.
"She is not a public figure. Yes, she is related to some very famous people, but that is something completely out of her control," Shweta had written in her column.
Shweta also pointed out how Navya Naveli's "strong sense of self" helps her remain unaffected even when people "judge her, deride her, call her unattractive or scrawny".
"But you can well imagine what it would do to the self-esteem of a young, impressionable girl, who hasn't asked to be thrust into the spotlight in this way," added the mother of two, who feels "helpless" while being "unable to plug the flow of this filth that is distributed in the name of information and journalism -- all in the pursuit of hits and likes".