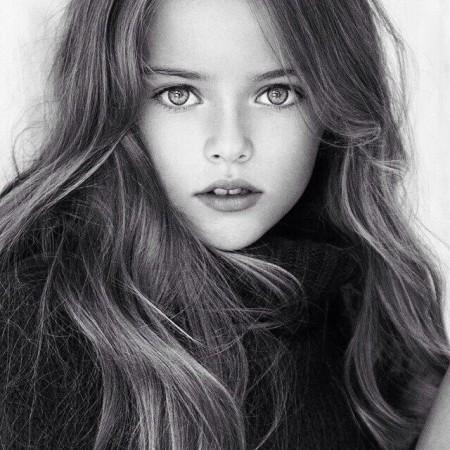 Nine-year-old Kristina Pimenova is subject to controversy in the modelling world as she is no ordinary girl. With more than two million Facebook fans and thousands of followers on Instagram, the Russian 'super-model' is already being known as the most beautiful girl in the world.
Pimenova entered the modelling world at the mere age of three and started walking the ramp at four. She has already been the face of brands like Roberto Cavalli, Dolce & Gabbana, Armani and Benetton, among others. She has also been featured in multiple high-profile fashion magazines.
While Kristina seems to be already living a "dream life", a handful of critics have raised concerns claiming that Kristina's pictures are being "sexualized" and that she has been exposed to thousands of online predators.
With piercing blue eyes, honey blonde hair, and innocent facial features, Kristina has certainly won the hearts of many across the world. But the comments on her pictures are evidence that not all the people look at her pictures the way they are supposed to be looked at - with innocence. Many comments from male followers on Facebook and Instagram praise her long legs, and address the nine-year-old as a babe for dates.
One quick scan of the gifted competitive gymnast's pictures on Facebook reveals that the child has been gifted with adult-like jaw lines and her expressions and clothing in some of the pictures may be questionable to some.
Kristina's parents, retired Russian football player Ruslan Pimenov and model Glikeriya Shirokova are being criticised for exposing their vulnerable daughter to the world, but the couple does not really seem to be giving much heed to the critics.
"You are sexifying your daughter and parents like you are the reason why girls grow up to have many issues... also there are so many sick ppl out there that look at these in sexually [sic] ways," one of the critics said.
"Way to entertain pedophiles.... what's wrong with parents now days?!" wrote another person on Facebook.
"Make-up Kids on Facebook for fame.... Sick" reads another comment from a critic.
Kristina's mother however justifies her stand saying that she personally monitors her child's social media accounts and deletes inappropriate comments. She also says that she filters most of the content that goes on Kristina's website.
"All the content shared on this page should be kid-friendly," says a post on Kristina's page.
"Any video or pictures posted here that is not appropriate for Kristina's age will be deleted and whoever posted it will be blocked."
"Kristina's pictures cannot be used for role playing," said the message.