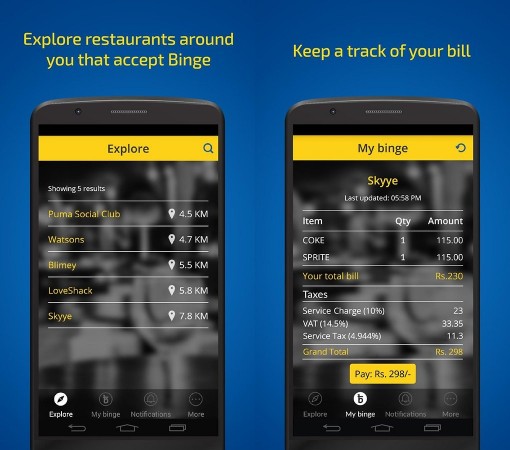 There is a plethora of apps available for Android and iPhones catering to different purposes, such as finding out restaurants and pubs, place orders or book tables. Standing apart from all such apps, a free-to-download app called Binge serves a different purpose, though belonging to the same genre.
The small app has been designed to solve key problems we face, usually during weekends, or festivals. During such occasions, all pubs and restaurants are crowded. If you're lucky enough and manage to book a table for yourself, you'll probably be waiting in the place for another half- an-hour or more for paying the bill.
But don't worry, Noroc Solutions, developer of Binge, has just touched the sweet spot for you. Once opened, the app will show you the nearest pubs and restaurants according to your current location. After reaching the place you can track your order in real time and once done you can pay the bill options directly off your phone without waiting for a single minute.
The app provides for up to four credit or debit cards to be pre-loaded. The app involves 256 bit encryption for added security and saves the card data in a vault and keeps them available on phone as a token so that no one can access your card data. The app also provides an utility through which you can split the bill among friends who has the same app pre-installed hence once done you can just pay and walk off the place.
For added benefits, the Binge offers points with every bill you pay. Once you accumulate decent amount of points, you can redeem them while paying via Binge.
Also, the developer has tied up with several pubs, bars and restaurants across Bengaluru and is in the process of tying up with some more in Delhi, Mumbai, Pune and Hyderabad. It has entered into agreement with Uber in Bengaluru to offers its customers exclusive deals on Uber, like discounts on Uber rides.
The founders of Noroc Solutions Ajay Joseph, Co-Founder & CEO, Santosh Marin Co-Founder & COO and the CTO Gaurav Arora are optimistic about this innovative app.
The app repository of the Android version consumes only 9MB worth data and offers all the above-mentioned features through a well-laid intuitive interface.