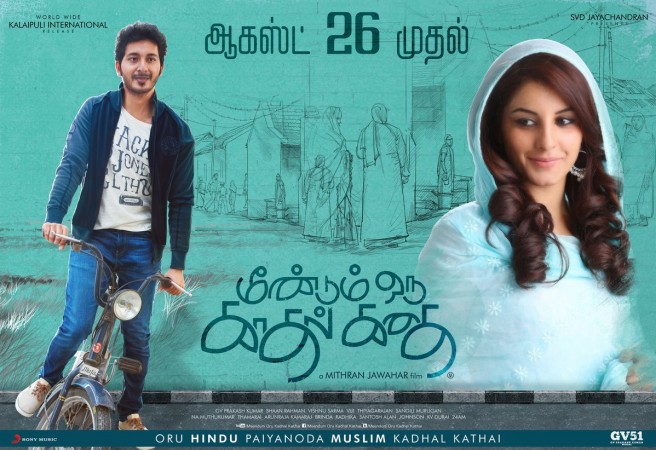 Mithran Jawahar's "Meendum Oru Kadhal Kadhai" is a musical-romance, which hit screens on Friday, Aug. 26. It is the Tamil remake of Malayalam hit flick "Thattathin Marayathu," starring Nivin Pauly and Isha Talwar.
For the Tamil version, Mithran Jawahar has signed Walter Phillips to play the male lead, while retaining Isha Talwar to reprise the role that she played in the original. Arjunan, Manoj K Jayan, Thalaivasal Vijay, Shan, Vanitha Krishnachandran, Vidyullekha Raman, Venkatesh Harinathan, Karthikeyan and others are in the cast.
The film has GV Prakash Kumar's music, Thiyagarajan's editing and Vishnu Sharma's cinematography.
"Meendum Oru Kadhal Kadhai" is a romantic story of a Hindu boy named Vinodh (Walter Phillips) and Muslim girl Ayesha (Isha Talwar). His first encounter with Ayesha ends on a sad note as he accidentally crashes with her, causing her to slip from the staircase and resulting in her hospitalisation.
The hero goes to the hospital to leave an apology note and their love story begins thereafter, although she takes time to reciprocate his feelings. Being the niece of powerful politician Abdul Khader (Nasser), their affair naturally faces hurdles. What are the issues the hero faces in his love story and will the couple be able to convince their families about their relationship? Answers to these questions form the crux of the story.
Reviews:
Find the audience's response to the film below:
Ramesh Bala: #MeendumOruKadhalKadhai [3/5]: Dir #MithranJawahar has kept the essence of the Malayalam original well.. Fresh of breath air among thrillers
#MeendumOruKadhalKadhai [3/5]: @gvprakash 's melodious songs go very well with the theme of the movie.. A major plus.. So is DOP #Vishnu
#MeendumOruKadhalKadhai [3/5]: #Arjunan's comic timings work well.. @VidyuRaman has a limited role, but makes a gud impact.. So does #Nasser
#MeendumOruKadhalKadhai [3/5]: Newcomer @WalterPhilips makes a good debut.. #IshaTalwar looks beautiful.. Not much scope for acting..
#MeendumOruKadhalKadhai [3/5]: A breezy, visually pleasin, musically rich Inter-religious romantic story.. A feel-good movie - worth watchin.
Kaushik LMK: #MeendumOruKadhalKadhai - @gvprakash is the main beat of the film with his lovely songs. Any romance film needs fine music and GV delivers
#MeendumOruKadhalKadhai - Smart, energetic @WalterPhilips is a good find. #IshaTalwar is serenely beautiful. Some good support characters
#MeendumOruKadhalKadhai - The love story ends well. Feel-good affair with a closing msg on female empowerment. On the slower side but.
#MeendumOruKadhalKadhai 1st half - Typical college love story bet. a Hindu - Muslim. Nice lead pair.. Very good songs but too many of them.
Haricharan Pudipeddi: Thoroughly enjoyed #MeendumOruKadhalKadhai. Hero @WalterPhilips makes a solid debut. Good luck for release today.