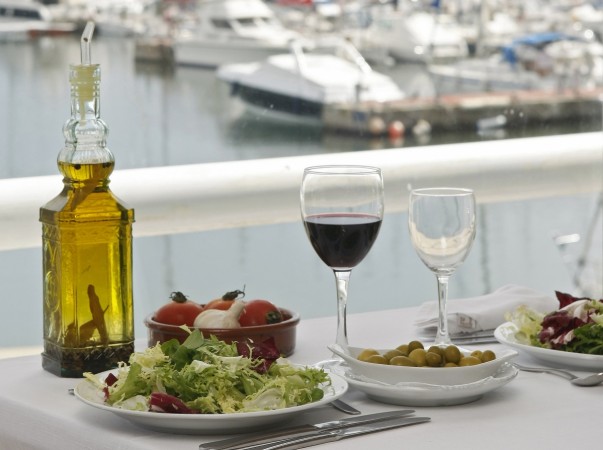 Latest studies have revealed that Mediterranean diet supplemented with extra virgin oil has the most beneficial effect on obesity and hyperglycemia.
The study also found that individuals who followed a diet of fruits, vegetables, fish and whole grains with added olive oil tend to have reduced obesity and blood sugar levels than those who follow low fat diet.
The study was conducted by the medical researchers from Spain who wanted to study the metabolic effects of the Mediterranean diet which is recognised as one of the healthiest dietary habits. The study was published in Canadian Medical Association Journal (CMAJ) on 14 October.
According to background information in the study, metabolic syndrome is diagnosed when three or more of five risk factors are found: large central waist, high blood pressure, low (HDL) cholesterol, high triglycerides and high blood sugar.
"Mediterranean diets supplemented with olive oil or nuts were not associated with a reduced incidence of metabolic syndrome compared with a low-fat diet; however, both diets were associated with a significant rate of reversion of metabolic syndrome," said the study
The study was conducted on men and women between the age group of 55 and 80 years who had high chances of cardio-vascular diseases. The study found that those on the Mediterranean diet with extra olive oil were 35% were more likely to reverse the condition than those on the low-fat diet and those on the Mediterranean diet supplemented with nuts were 28% more likely to reverse metabolic syndrome.
However, the study also found that individuals who followed both Mediterranean diets and low-fat diet did not differ in terms of developing the risk of metabolic syndromes.
"A Mediterranean diet supplemented with either extra virgin olive oil or nuts is not associated with the onset of metabolic syndrome, bur such diets are more likely to cause reversion of the condition. An unrestricted Mediterranean diet may be useful in reducing the risks of central obesity and hyperglycemia in people at high risk of cardiovascular disease", concluded the study.