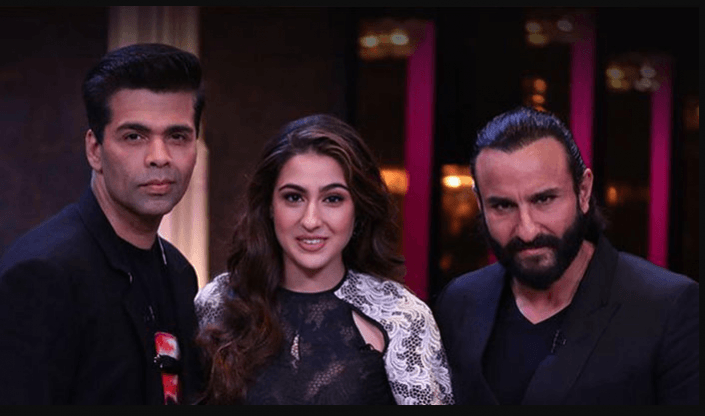 Actor Saif Ali Khan says he is in full support of the Me Too movement in India. This comes amid recent revelations of sexual harassment by a number of Bollywood and south Indian celebrities and crew members, stand-up comedians, journalists and authors.
The Sacred Games actor also spoke about the show's second season being cancelled after similar allegations on writer Varun Grover and Phantom Films being dissolved. Saif Ali Khan revealed that he will be extra protective of his daughter Sara Ali Khan, who is all set to make her Bollywood debut in the film Simmba and then will be seen in Kedarnath.
"If someone asks my daughter to come see him at Madh Island, I will go with her and punch that man in the face," said Saif Ali Khan while speaking to Bombay Times. "If she tells me that this guy said this to me, he will then be fighting me in court. I am sorry, but that's my reaction to it. He wouldn't dare to do it again. Every girl should have that kind of security," Saif added.
About the sexual harassment allegations by multiple women against Sajid Khan, the director of his film Humshakals, Saif Ali Khan said, "I think it's disgusting to bully and harass women. Whoever does it, I wouldn't like to be friends with them. It would change everything. We are talking about bringing in laws, like PoSH (Prevention of Sexual Harassment). It's a law that aims to prevent sexual harassment of women at workplace. All producers are always responsible. I feel if there's a problem on set, it should be the boss' problem and it should be prevented."
However, the actor does not remember anything bad happening on the sets of Humshakals with Sajid Khan around.
Saif Ali Khan said that our mindset needs to change, adding, "Some terrible things have been happening for a long time now. And thanks to social media, people will be scared now..."
"Reputation does matter. People will stop working with you. You will be removed from films immediately because it's very serious and it cannot be allowed to carry on," he added.
Sacred Games 2, the sequel to the hit web series Sacred Games that had Saif Ali Khan in the lead, is in the backburner for now due to the sexual harassment allegations against writer Varun Grover.
Saif said of the development, "I want to know what the truth is and we have to take the correct way forward. I feel, so much information is coming in and women have to feel safe to express themselves. It's incredibly brave, what they are doing..."
"Certainly, it has to be taken seriously and I am happy that some of these creepy things are being dealt with so strongly. I think some of these guys are going to be out of work," he added.
He also revealed to Press Trust of India that he has been harassed in his struggling days in Bollywood, but not sexually.
Meanwhile, director Sajid Khan has been replaced for Housefull 4. He stepped down after the allegations and after lead actor, Akshay Kumar asked the producers of Housefull 4 to cancel the shoot and look into the allegations of sexual harassment against Sajid Khan and actor Nana Patekar who were part of the film then.