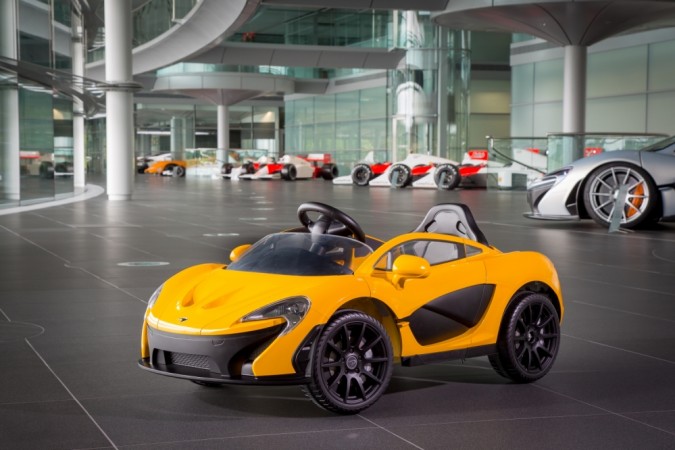 British sports car maker McLaren has introduced fully electric P1 derivative just for Rs 32,348 (£375). The McLaren press statement says the new P1 is available only to a limited group of potential customers - those under the age of six.
This toy car version of the P1 sports some changes from the original flagship P1 of McLaren. The mini version comes with a central driving position, just like the iconic McLaren F1. This is an open-top McLaren P1 which is not available in the real P1. The toy car version retains McLaren's signature dihedral doors.
The car can be started with a one-button stop/start function that will also automatically activate the lights and air-conditioning unit. An MP3 player and audio system is standard and it has been pre-programmed with popular nursery rhyme. It also features a reverse gear in addition to its three speed, forward transmission.
In a contrast to McLaren's usual policy of offering many colour options this small car will be sold only one colour- Volcano Yellow.
The interesting bit is that the automobile needs merely two seconds for its top speed of 4.9 kmh. For uninitiated, the actual McLaren P1 requires just 2.8 seconds to reach its top speed of 350kmph. McLaren P1 is powered by a 3.8-litre twin turbo V8 petrol engine with an electric motor. The hybrid system belts out 903bhp and 900Nm of torque mated to 7-speed seamless shift dual clutch gearbox.