A scary situation transpired at the third press conference event featuring Conor McGregor and Floyd Mayweather in Brooklyn, New York, on Thursday, when Team Mayweather or 'The Money Team (TMT)' all of a sudden started confronting the McGregor camp in the stage.
It all started after Mayweather signalled his bodyguards to go and try to intimidate the Irishman's security team as well as UFC President Dana White.
An ugly confrontation, that could easily have been physical, ensued. Thanks to a swift reaction by the security team, nothing disastrous took place.
Mayweather's three notable bodyguards did receive plenty of expletives from McGregor though such as juicehead b****h and fat b***h and ahead of their final press conference in London on Friday July 14, we all hope things don't get really out of control.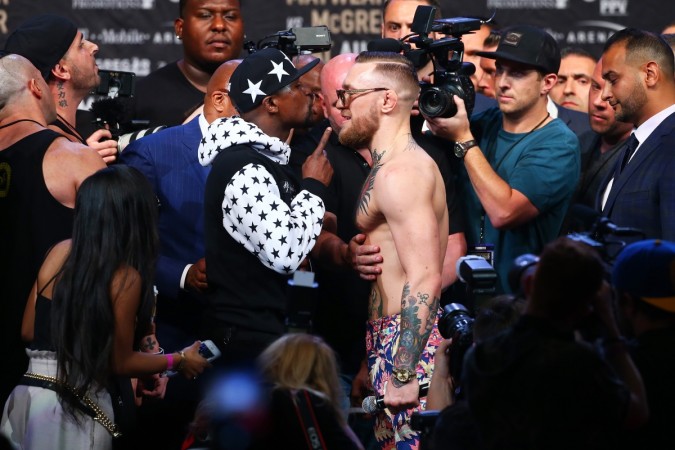 So who are these juiced-up bodyguards of Mayweather?
Ray Vinci Sadeghi is one of those well-built bodyguards while the most notable one remains Alfonso 'Big Church' Redic, who stands in at over 7ft tall and completely midgets Mayweather.
Redic and Adam Plant are known as The Great Wall and they have previously been the bodyguards of rapper Snoop Dogg.
Redic is now becoming famous by the new name given to him by McGregor in the press conference -- 'fat b****h'.
McGregor's bodyguards and team
McGregor and his teammates acted in time to stop a major fight from fuelling on Thursday night. These three men are the be all and end all in McGregor's team.
Artem Lobov: Russian-Irish UFC featherweight fighter
Dillon Danis: BJJ black belt
Owen Roddy: McGregor's striking coach