The elections to 272 seats across three wings of the Municipal Corporation of Delhi (MCD) was conducted on Sunday, April 23, amid huge political pushes. The voter turnout — at approximately 55 percent, with exact figures due to come later — was on the lower side, and the Aam Aadmi Party (AAP) blamed it on malfunctioning electronic voting machines (EVMs) and voters' names not being present in electoral rolls.
Low voter turnout
The voter turnout was low from the word get-go, despite appeals from all quarters, including politicians. Delhi Chief Minister and AAP chief Arvind Kejriwal took to Twitter to blame this on voters' names disappearing from electoral rolls. Now, several instances of this did happen.
Mohit Sain from South Delhi told IBTimes India he tried to find the polling booth where he would cast his vote, but was informed that his name did not exist in the electoral rolls. Manvendra Singh, who is in Germany, told IBTimes India: "A friend of mine travelled all the way [to India] from München [aka Munich in Germany]. Now he can't vote because some machine is kaput." The friend was to cast his vote in the Sarai Pipal area.
Kejriwal also turned to his old bete noire — the EVM — to blame the low voter turnout. He claimed there was widespread EVM malfunctioning during the MCD elections. Indeed, there were reports of EVMs not working at some places.
The low voter turnout was reflected in the IBTimes India Twitter poll as well: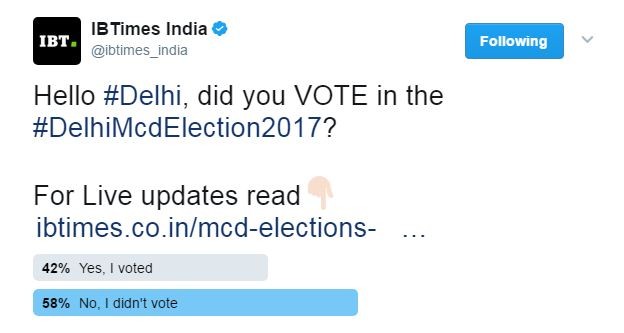 Exit polls
The exit polls now indicate that the BJP will win all three wings of the MCD. The ABP C-Voter exit poll says the saffron party will manage wins in 218 out of the 272 seats in the civic body that it has ruled for the previous three terms. The Aaj Tak exit poll gives the BJP 210 seats.
This is as per predicted lines. High voter turnouts generally spell doom for the incumbent regime. Since that has not happened, there is little chance that the BJP will be unseated from the MCD. What can indeed happen is that the AAP will make inroads into the civic body.
Either way, there are little chances of the Congress making any significant mark in the polls, especially after several of its bigwigs left it in the run-up to the MCD elections.