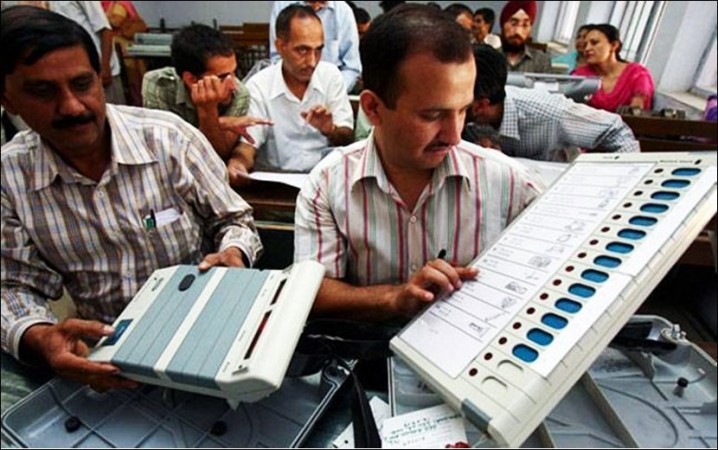 The Congress on Wednesday, April 26, joined the chorus of the Aam Aadmi Party (AAP) against electronic voting machines (EVMs), with Ajay Maken saying the Election Commission (EC) must probe the machines to ensure no tampering had taken place.
His remarks on EVMs, however, were on a much lighter note when compared to the comments AAP leaders have been making lately. All that came to a head on Wednesday when AAP leader and Delhi Deputy Chief Minister Manish Sisodia levelled some serious allegations against the BJP and its leaders over EVM-tampering.
'EVM tampering a bitter truth'
Sisodia, in a series of tweets, said on Wednesday: "The BJP researched EVMs extensively for five years after its Lok Sabha election defeat in 2009. It is on the basis of that research and the expertise gained from it that the party is winning elections. Not just research, but BJP leaders like [LK] Advani and GVL Narasimha Rao have even written books on them! Their [The BJP's] leaders even approached the Supreme court [against EVMs]."
He also said: "EVM tampering is a bitter truth of India's democracy that can be initially made fun of. However, we cannot stop telling the truth for fear of being ridiculed."
It may be noted that AAP chief and Delhi Chief Minister Arvind Kejriwal has been claiming for quite some times that EVMs have been rigged, and his Delhi Cabinet Colleague Gopal Rai said on Wednesday that the BJP win in the MCD elections was not a Modi wave but an "EVM wave."
Congress joins bandwagon
As the MCD election results became clearer, Delhi Congress chief Ajay Maken congratulated the party for improving its vote share in the polls, but also tendered his resignation, taking responsibility for the party's loss. He also urged the EC to probe EVMs, adding: "If we can't trust the EVMs, we should at least trust the election commission."
Tehseen Poonawalla, a relative of Congress president Sonia gandhi's son-in-law Robert Vadra, also took to Twitter to blame the EVM. "As [with] all Supreme Leaders, ours too keeps gettin super majorities. EVM ki jai [vitory to the EVM]!" he said on Twitter.