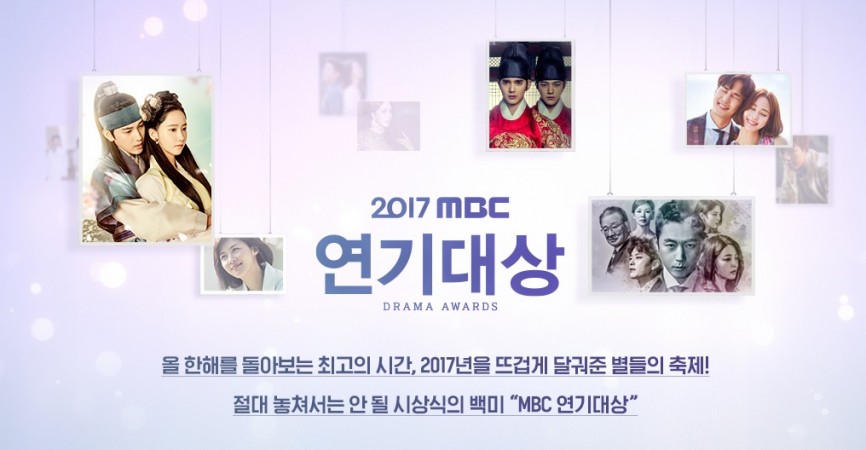 The wait for 2017 MBC Drama Awards is over! In a few hours, some of the most popular K-Pop idols and groups (including the members EXO and BTS) will gather together in Seoul to kick off the annual award ceremony on Saturday (December 30) night.
Big names from the Korean entertainment industry like Ha Ji Won and YoonA are expected to attend the event this year. However, all the eyes could be on Kim So Hyun, who is currently preparing for a comeback to the drama world with the upcoming KBS series Radio Romance.
Also read SBS Drama Awards 2017 nomination list: Uhm Ki Joon will compete with Ji Sung for grand prize
Here's a look at the nomination list and live streaming details for online viewers:
The 2017 MBC Drama Awards will kick-start with a live broadcast on Saturday, December 30, at 9 pm KST. Click here to watch the annual award ceremony via live-streaming on the official website on MBC. For more information on the host, celebrity lineup and performances, stay tuned to the MBC website.
Korean drama lovers can also check out the hottest trends of the season and the best-dressed celebrities through the pre-show, which includes red carpet arrivals. All the updates on the red carpet event could be available on the social media pages of MBC.
And the nominees for this year are...
Drama Of The Year
Rebel: Thief Who Stole The People
Man Who Dies To Live
You Are Too Much
Hospital Ship
Ruler: Master Of The Mask
I Am Not a Robot
Two Cops
Money Flower
Return of Bok Dan Ji
Always Spring
Enemies From The Past
Person Who Gives Happiness
Teacher Oh Soon Nam
The King Loves
The Guardians
20th Century Boy And Girl
Father, I'll Take Care Of You
Bad Thief, Good Thief
Man Who Sets The Table
Radiant Office
Missing 9
Golden Pouch
All Kinds Of Daughters-In-Law
Backflow
Best Villain
Geum Bo Ra for Blow Breeze
Seo Yi Sook for Bad Thief, Good Thief and Rebel: Thief Who Stole The People
Han Soo Yeon for Teacher Oh Soon Nam
Heo Joon Ho for Ruler: Master Of The Mask
Choi Tae Joon for Missing 9
Best Comedy Character
Shin Sung Rok for Man Who Dies To Live
Jung Kyung Ho for Missing 9
Kim Soo Mi for Man Who Sets The Table
Hwang Dong Joo for Father, I'll Take Care of You
Kim Sun Ho for Two Cops
Best Hustle Award
Lee Joo Woo for Return Of Bok Dan Ji
Kim Sang Joong for Rebel: Thief Who Stole The People
INFINITE member L for Ruler: Master Of The Mask
Lee Si Young for The Guardians
Ryu Won for Missing 9
Male Popularity Award
Jo Jung Suk for Two Cops
Yoo Seung Ho for I Am Not A Robot
Jang Hyuk for Money Flower
Yoon Kyun Sang for Rebel: Thief Who Stole The People
CNBLUE member Kang Min Hyuk for Hospital Ship
L for Ruler: Master Of The Mask
Kim Ji Suk for Rebel: Thief Who Stole The People and 20th Century Boy And Girl
Female Popularity Award
Honey Lee for Rebel: Thief Who Stole The People
Chae Soo Bin for I Am Not A Robot and Rebel: Thief Who Stole The People
Ha Ji Won for Hospital Ship
Kim So Hyun for Ruler: Master Of The Mask
Girl's Day member Hyeri for Two Cops
Han Ye Seul for 20th Century Boy And Girl
Girls' Generation member YoonA for The King Loves