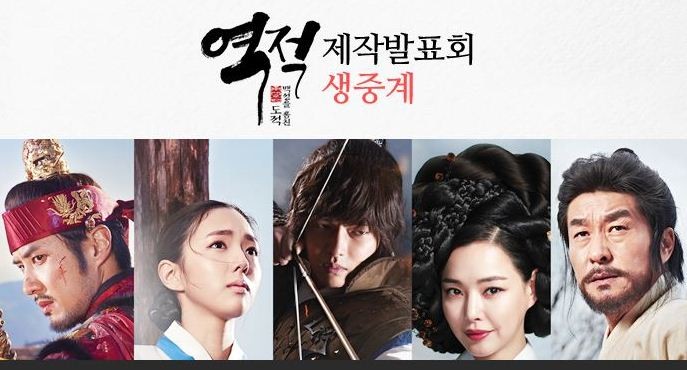 The winners of MBC Drama Awards 2017 have been revealed. The cast and crew of historical drama Rebel: Thief Who Stole the People took home nine awards, including the Drama of the Year award.
While actor Kim Sang Joong received the grand prize, actress Honey Lee and actor Kim Ji Suk bagged female and male High Excellence Award for Monday-Tuesday Drama. Actress Chae Soo Bin won the Female Excellence Award for Monday-Tuesday Drama.
After accepting his grand prize, Kim Sang Joong thanked the co-stars and the creative team behind the series. "Nowadays, I am considered a senior by many in the industry. I will do my best to be a senior people can look up to rather than a senior who expects to be served by his juniors," he said.
Other big winners of the night were Ruler: Master of the Mask, Money Flower, Two Cops and Missing 9. The shows took home at least three awards each on Saturday (December 30) evening.
Also read SBS Drama Awards 2017 nomination list: Uhm Ki Joon will compete with Ji Sung for grand prize
Here's the complete winners list of MBC Drama Awards 2017:
Grand Prize: Kim Sang Joong for Rebel: Thief Who Stole the People
Drama of the Year: Rebel: Thief Who Stole the People
Female High Excellence Award for Monday-Tuesday Drama: Honey Lee for Rebel: Thief Who Stole the People
Male High Excellence Award for Monday-Tuesday Drama: Jo Jung Suk for Two Cops and Kim Ji Suk for 20th Century Boy and Girl and Rebel: Thief Who Stole the People
Female High Excellence Award for Serial Drama: Kim Mi Kyung for Person Who Gives Happiness
Male High Excellence Award for Serial Drama: Go Se Won for Return of Bok Dan Ji
Female High Excellence Award for Miniseries: Ha Ji Won for Hospital Ship
Male High Excellence Award for Miniseries: Yoo Seung Ho for Ruler: Master of the Mask
Female High Excellence Award for Weekend Drama: Lee Mi Sook for Money Flower
Male High Excellence Award for Weekend Drama: Jang Hyuk for Money Flower
Female Excellence Award for Monday-Tuesday Drama: Chae Soo Bin for Rebel: Thief Who Stole the People
Male Excellence Award for Monday-Tuesday Drama: Kim Seon Ho for Two Cops
Female Excellence Award for Serial Drama: Song Sun Mi for Return of Bok Dan Ji
Male Excellence Award for Serial Drama: Kang Kyung Joon for All Kinds of Daughters-In-Law
Female Excellence Award for Miniseries: Han Sun Hwa for Radiant Office
Male Excellence Award for Miniseries: Shin Sung Rok for Man Who Dies to Live
Female Excellence Award for Weekend Drama: Jang Hee Jin for You Are Too Much
Male Excellence Award for Weekend Drama: Jang Seung Jo for Money Flower
Popularity Award: Kim So Hyun for Ruler: Master of the Mask and INFINITE's L aka Kim Myung Soo for Ruler: Master of the Mask
Golden Acting Award for Monday-Tuesday Drama: Seo Yi Sook for Rebel: Thief Who Stole the People and Jung Bo Suk for The King Loves (award received by Hong Jong Hyun)
Golden Acting Award for Serial Drama: Song Ok Suk for Person Who Gives Happiness and Ahn Nae Sang for Golden Pouch
Golden Acting Award for Miniseries: Kim Sun Kyung for Ruler: Master of the Mask, Jang Shin Young for Radiant Office and Oh Jung Sae for Missing 9
Golden Acting Award for Weekend Drama: Shin Dong Mi for Father, I'll Take Care of You and Ahn Gil Sang for Bad Thief, Good Thief
Best Comedic Actor Award: Jung Kyung Ho for Missing 9
Best Fighting Spirit Award: INFINITE's L aka Kim Myung Soo) for Ruler: Master of the Mask
Best Villain Award: Choi Tae Joon for Missing 9
Best Scriptwriter of the Year Award: Hwang Jin Young for Rebel: Thief Who Stole the People
Best Child Actor Award: Nam Da Reum for The King Loves and Lee Ro Woon for Rebel: Thief Who Stole the People
Best New Actress Award: Girls' Generation's Seohyun for Bad Thief, Good Thief and Lee Sun Bin for Missing 9
Best New Actor Award: Kim Seon Ho for Two Cops and Kim Jung Hyun for Rebel: Thief Who Stole the People