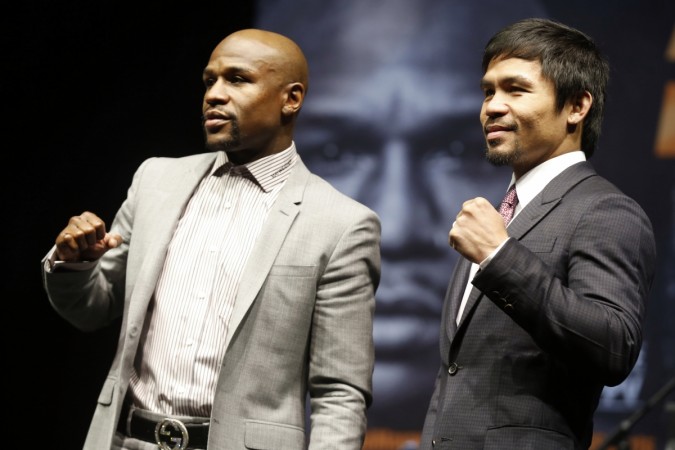 The much-anticipated mega bout between Floyd Mayweather and Manny Pacquiao is just three days away and boxing fans around the world have been eagerly waiting for the day to arrive when these boxers would go head to head inside the same ring.
There is very little to choose between the best pound-for-pound boxers at present, but the American has been touted as favourite for the clash with the Filipino being the underdog. With boxing fans having waited for the fight for some five years, they want one of the best fights of modern times and the way things have shaped up in the last few months, expect a humdinger of a contest between the five division world champion, Mayweather, and the eight division world champion, 'Pacquiao'.
Both the boxers have been undergoing some serious training with their respective trainers to maintain perfect shape and fitness for the mega bout.
Key Facts:
Date, Time and Venue
2 May, 11:30pm ET (approx) at MGM Grand Garden
TV Information
Showtime and HBO (US)*
Sky Sports (UK)*
*pay-per-view
Prize Money
Expected $300 million - It will be split between Mayweather and Pacquiao with the former receiving 60% and the latter 40% from the bout.
Professional Record Comparison
Floyd Mayweather has remained unbeaten in his 47 professional bouts including 26 knock-outs, while Pacquaio has lost five out of his 64 bouts, which includes 38 knock-out blows.
Fighting Style
The Filipino is a Southpaw boxer, who is known for his swiftness inside the ring. Pacquiao can land punches at will, around 100 punches per round if given a chance. He possesses a dangerous left hand, but his trainer Freddie Roach has been urging him to use his right as well, which bags a punch when he strikes.
The American might have slowed down over the years as far as his movements are concerned, but when given a chance his counter punch can floor opponents easily. Mayweather's defence is said to be the best in the business.
Last Fight
Manny Pacquiao last fought on November 2014 at Macau, where "Pac-Man" defeated Chris Algieri, where the bout was stretched to 12 rounds.
Floyd Mayweather last fought on September 2014 in Las Vegas, where "Money" defeated Marcos Maidana with the bout stretching to 12 rounds.