Floyd Mayweather continued his taunts on Twitter, taking on rivals Manny Pacquiao, Amir Khan and Marcos Maidana on the microblogging website.
After putting up a meme - which he called his "Christmas card to the world" - about Pacquiao on Monday, Mayweather was back on the social media on Wednesday; this time with a picture of himself with "Manny Roach"; a person who resembles both Pacquiao and his coach Freddie Roach.
"Manny Pacquaio mixed with Freddie Roach. Meet my friend, Manny Roach," read the tweet.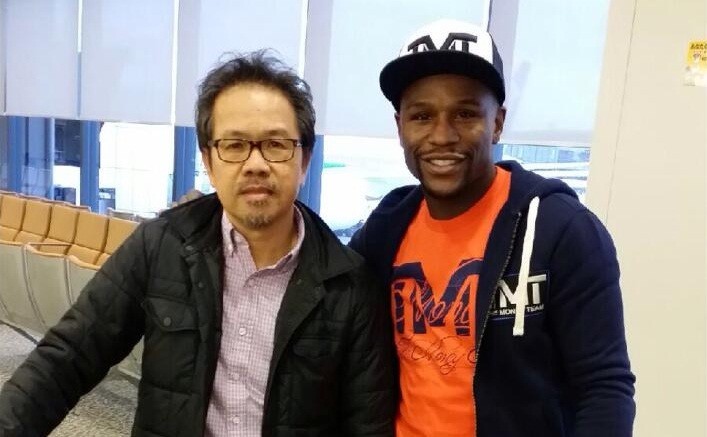 The undefeated American boxer then went on to share pictures of him knocking down Khan, Maidana and Pacquiao, with one of them expected to be his next opponent.
First up was Amir. The picture showed the British fighter falling back with Mayweather standing tall over him. "Just imagine what Amir "Con Artist" will get if his name gets picked in the Mayweather sweepstakes," the American tweeted.
Mayweather then turned to Maidana. The man from Michigan put up a picture of him landing a right straight square on the Argentine boxer. "Can I please order a one-piece with a biscuit? No sides," was the caption.
The American then returned to taunting Pacquiao. Mayweather ridiculed the Filipino's recent struggles in the ring and also had a go at Pacquiao's issues with the Internal Revenue Service (IRS). Alongside a picture of Mayweather hitting Pacquiao with a jab was the caption. "Juan Marquez ate Timothy Bradley's leftovers..."
"Now you're telling me I got to eat Juan Marquez's leftovers? Let me talk to the IRS about this," he added.
Mayweather is a five-division champion and has eight world titles to his name. The 36-year-old is rated as the best pound-for-pound boxer in the world. Mayweather next opponent is set to be announced in January and he will most likely fight in Las Vegas on 3 May.