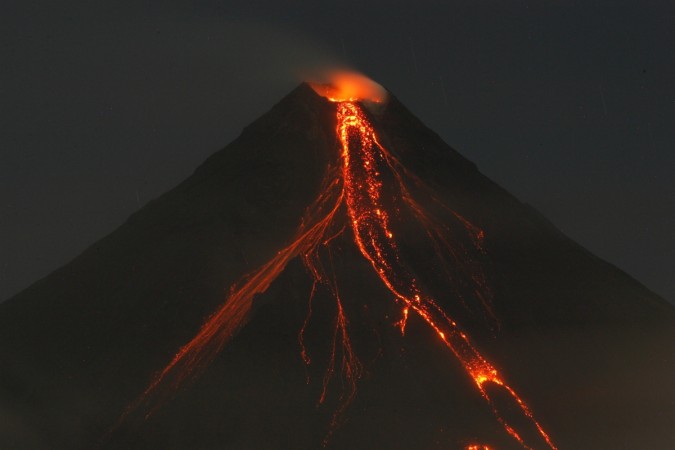 Situated on the island of Luzon, around 330 km southeast of Manila, Mayon is one of the world's most active volcanoes and have erupted 47 times since 1616.
Now, with the Philippines Institute of Volcanology and Seismology (PHIVOLCS) having raised the alert level from two to three, the authorities in the Philippines have ordered the evacuation of almost 12,000 people living close to the island nation's most active volcano.
Military trucks were dispatched on Tuesday, 16 September, to help move the residents out of the danger zones near the Mayon volcano.
Around 50,000 people are expected to be evacuated within the next three days, DW reported regional civil defense director Bernardo Alejandro as saying.
According to the "NOTICE OF INCREASE TO ALERT LEVEL 3" published by the PHIVOLCS under the Mayon Volcano bulletin at 10.00 pm (PHT) on 15 September, "a noticeable escalation of unrest was recorded" and "32 low frequency volcanic earthquakes that indicate magma intrusion and/or volcanic gas activity" were detected.
"The Crater glow has become observable, indicating incandescence of the crater from molten lava and hot volcanic gas," the update stated. About raising the alert level to three in a five-level scale, the Philippines Institute of Volcanology and Seismology said that "Mayon is exhibiting relatively high unrest and that magma is at the crater and that hazardous eruption is possible within weeks."
Following the warning, PHIVOLCS recommended that the 6 km radius Permanent Danger Zone (PDZ) around the volcano and the 7 km Extended Danger Zone (EDZ) on the southeastern flank be enforced due to the danger of rockfalls, landslides and sudden explosions or dome collapse that may generate hazardous volcanic flows.
Two hundred years ago, on 1 February 1814, the Mayon Volcano erupted in the most destructive manner, affecting the southern slope of the volcano, specifically Camalig, Cagsaua, Budiao and Guinobatan and resulting in 1,200 casualties.
The ruins of Cagsaua Church, wherein only the bell tower remains standing is a reminder and testimony of this disaster, following which the Mayon volcano erupted again disastrously in1968, 1978, 1984, 1993, 2000-2001, 2006 and 2009.
Being a popular attraction, the Mayon volcano proved to be fatal for five hikers in 2013, who ventured within 6 km of the summit, which is a permanent danger zone, and were killed by the ashes.
Here is a live footage of the Mayon volcano's February 2000 eruptions posted by Tommy Bombon on his YouTube channel: