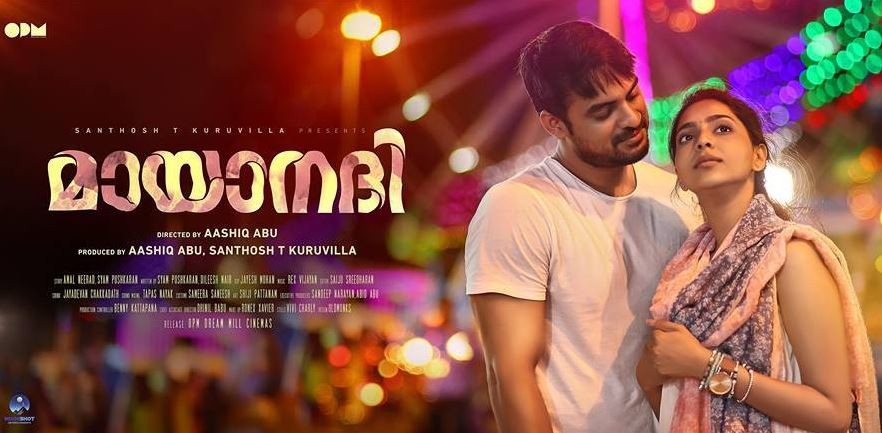 Mayaanadhi, which has been making waves over the social media platforms for its romantic portrayal love and its pain, is getting unprecedented support from social media. Most of the user reviews appear on social media platforms are poetic like love letters and more beautiful than the movie itself.
No wonder, director Aashiq Abu posted overwhelmingly on his Facebook wall about the beauty of short user reviews about the movie. He said some of them are even more beautiful than the movie.
Most of the reviews are short notes shared by an individual, intimate feeling the viewers had while watching the movie. "Mayaanadhi is a title that can be used not just for a movie, but for the life. Happy to watch a movie with the director's signature on it," writes writer Jigish Kumaran on Facebook.
"One can feel the movie, its emotions and situations like a poem. Mayaanadhi is an overwhelming experience. One should experience it," posted Aravind Rajendra Kumar.
"Mayaanadhi is a stream, from the beginning to the end. Sometimes, it slows down, and sometimes, it speeds up," writes Sarath Pallippuaram on Facebook.
"We first stepped onto the shore of a mystic river. The stream, its warmth, coldness! The mystic river lay stretched towards faraway places," writes Lijisha AT.
"Some movies are like getting a gunshot straight into your chest. That unexpected gunshot would kill you for many times and days," writes S Durga director, Sanal Kumar Saidharan.
"A movie evolves into an experience when the distance between it and the viewer becomes narrow until it vanishes completely. The movie starts living around us and we start living inside it. Mayaanadhi is such an experience," posted Sree Lakshmi.
The movie, which was lagging behind the collection reports in the first days of its release, is gathering momentum after the positive wave of user reviews on social media.
The general air around the romantic entertainer is that the movie recaptures a long lost faith in simple, but passionate romances in Mollywood.
Another factor that made the social media generation falling head over heels for the movie is its bold stand on gender politics, love life, personal freedom, and solid characterization of its lead pair, played by Tovino Thomas and Aishwarya Lekshmi.
Soul stirring songs like "Uyirin Nadhiye" tuned by Rex Vijayan, an array of sparkling performance and, most importantly, the deep, painful undercurrents of eternal, passionate love make the social media fall in love with Mayaanadhi and flood the timeline with love letters to a movie.