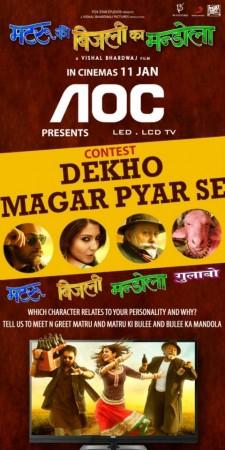 "Matru Ki Bijlee Ka Mandola" is a romantic comedy film which got mixed reviews from critics upon its release. Pankaj Kapoor's work has been appreciated but lead actors Imran Khan and Anushka Sharma failed to impress the critics.
Vishal Bhardwaj directed, produced, co-scripted and also composed the score for the film.
Check out what critics have to say about the movie:
Roshni Devi of Koimoi.com said: "What would you do if you were cornered by a pink buffalo that grins at you? When you're tipsy? At your daughter's wedding? Our man here - Harry Mandola - is expected to take the bull by the horns, quite literally!
"A veteran like Pankaj Kapur does not need words of praise anymore, but here goes nothing. Whether it's the slurring Robinhood urging a torch-wielding mob against himself or the stiff, whip-cracking snob, Pankaj Kapur is brilliant as Harry. His mood shifts are inimitable. The only hiccup is that some of his dialogues in his drunken moods are quite indecipherable. Imran Khan just doesn't get it right, apart from the looks (which are precise), his mannerisms and dialogue delivery fall short from what's expected. Anushka Sharma continues her spree of tomboyish roles as the wild-child Bijlee; she aces it with her tipsy act in the climax.
"If you're a Vishal Bhardwaj fan, be prepared for a fare that's different from his dark, moody style. The fun and songs should keep you going though."
Vivek Kaul of Firstpost said: "Matru Ki Bijli Ka Mandola' is the new 'Jaane Bhi Do Yaaron"
"Directors who do make hatke pictures do not need to go around telling the world that their movie is a little hatke. Vishal Bhardwaj is one such director and his latest movie Matru ki Bijli ka Mandola (MKBKM) falls into that category. It is genuinely hatke.
"As for me as I leave the theatre I find myself humming "gulbai bhains jo teri dekhi...". I see pink buffaloes everywhere. The Worli Seaface is full of them."
Taran Adarsh of Bollywood Hungama said: "One looks forward to a Vishal Bhardwaj film for varied reasons. For this supremely talented storyteller/music composer, stories have preceded stars, which, to be brutally honest, is a rarity in Bollywood. Though he has worked with A-list names, he's *not* made it a compulsion or regularity. Additionally, one cannot accuse him of peddling saccharine sweet romances, brain-dead comedies or fancy family dramas to his spectators.
"MATRU KI BIJLEE KA MANDOLA is definitely not Vishal's best work, though the master touch is evident in several sequences. The story barely moves in the first hour; there are stretches when the account begins to blur. Thankfully, the sequence of events and some exceptional moments in the post-interval portions save the film from tripping.
"On the whole, MATRU KI BIJLEE KA MANDOLA holds your attention in parts, but that's not enough. The first half is lackluster, while the post-interval part catches some steam. However, the excessive length plays a spoilsport. Below expectations!"
Saibal Chatterjee of NDTV said: "A stationary stretch limo parked on a desolate farmland revs up and drives right through a ramshackle liquor kiosk, bringing the structure down in a mangled heap. The owner flees and two men - the car driver and his inebriated master - ransack the shop and make off with as many bottles of a local brew as the vehicle can hold.
"That - the opening sequence of Matru Ki Bijlee Ka Mandola - sets the tone for the rest of the film. It is a wild, wacky, wicked satire that carries the unmistakable Vishal Bhardwaj signature. But it leaves you with mixed feelings.
"Few filmmakers in Mumbai engage with ideas and issues of contemporary relevance as felicitously as Bhardwaj. He might have fallen short this time around, but even when he is not at his best, he is infinitely better than most in the business. A director who does not fear failure merits our support."