MasterChef Junior US winner Logan Guleff will be in India this week and will visit New Delhi, Bengaluru, Pune and Kolkata as the celebrity mascot of the Young Chef Olympiad 2017.
Also read: Chef Manu Chandra on why 2017 will be the year of regional cuisine; and that god-awful pani puri pizza
The 14-year-old, who made it to Time's Most Influential Teens list in 2016, will join other eminent international celebrity chefs like Shaun Kenworthy, Hong-Kong based Andreas Mueller, and Chef Udo Leick at the event.
This is the first time Guleff is visiting India and is clearly thrilled about it. "I am really excited to visit India. I am looking forward to visit the Taj Mahal, experience the rich culture of India and see where the spices come from. I can't wait to take it all in," he said.
Apart from being a chef, Guleff is also a cookbook author and also manufactures and sells his own spice blend under the brand name Logan's Rub. The Memphis chef recently spoke to International Business Times and told us all about his culinary journey, his love for food and also shared a fun recipe with us.
Here are the edited excerpts of the interview.
International Business Times India: From winning the Master Chef Junior US in 2014 to being a cook book author. How has the journey been?
Logan Guleff: I have had an amazing time! I have worked with some famous chefs and I have been able to help a lot of charities. I have authored several recipes for other cookbooks, but never recipes for my own cookbook. When I was approached to do a cookbook, I really had a big special book planned, which I hope one day to still create.
It is very unique concept, but more work than I could do now. So I talked with my mom and we decided to do something new. I created the first Graphic Novel Adventure Cookbook with the help of a very talented artist Cindy Tan.
My first book will be printed very soon. We have all worked very hard and created this totally new concept book to share my love of cooking and knowledge of food with others.
IBT: How did you decide to participate in Master Chef Junior?
Guleff: That is a funny story. I saw the first season on TV, because I watch every Gordon Ramsay show. And my Dad wanted to watch it. I got kind of sad that I was not on the show and I told my Dad that I thought I could win it. My Dad brought home the application for the next season and I entered and ultimately won.
IBT: Are you excited about visiting India? What do you expect from the Young Chef Olympiad 2017 event?
I expect to meet a vibrant and exciting India. I expect the Young Chefs to bring their best skills and creativity. These Young Chefs are going to be the most adventurous and most ambitious in the world! I think I will be blown away by their talent and I will do my very best to respect their work and skill. I am sure we will all learn a lot about food from the senior famous talented Chefs. I just can't wait to be part of this World Class event!
IBT: The Young Chef Olympiad comprises many young chefs competing for a title like you did in 2014. What would your advice be to them on time-management and keeping calm?
Guleff: I would advise them to focus on the food, one plate at a time! If you get captivated by the prize and the fun activities, you won't be focused on the food and something is going to get burned.
I encourage every participating chef to know they can be the Champion, but stay in the moment and plate each dish to perfection!
IBT: How did you develop your love for food and cooking? Any specific instance?
Guleff: I always loved to be in the kitchen, it is the heart of every home. We celebrate and laugh and cry with food. I have a kind of crazy mom who thought every little kid was cooking and she let me cook, play and make a huge mess in the kitchen.
She encouraged me to try foods from around the world too. When I was four she had to move a cupboard across one door and make a pass (the table chefs set plates on) and say "Order UP!" before I would eat my food!
IBT: What is the first thing you ever cooked?
Guleff: I started with my mom's morning coffee, two scoops, pour the water, and push the button! I loved pushing the button. Then I made "pigs in a blanket", small corn bread mixes, cookies, breads, and pasta.
At age 4 I could make amazing pasta! By six I was really better than my Italian Grandmother... But don't tell her!
IBT: An ingredient you love?
I love vinegar! And of course spices and more spices and salt! I collect salt from around the world! It is so different and it really matters when you want to make an ethnic food to have their local salt.
IBT: An ingredient you think is overrated?
Guleff: Truffle Oil, I cooked with a truffle in September and it was heavenly, I love truffle cheese. But the oil, while very delicious, is a bit of a trap.
IBT: What is your go-to finger food when you have hunger pangs?
Guleff: My mom makes me a "Tasty Plate" -- that is what I have always called it -- it consists of cut fruit, ham or slices of salami, some cashews, nuts, and cheese. I love a bit of dried fruit and maybe some other nibbles added, like dark chocolate. Now I think the world calls it a charcuterie, but for me it will always be a "tasty plate."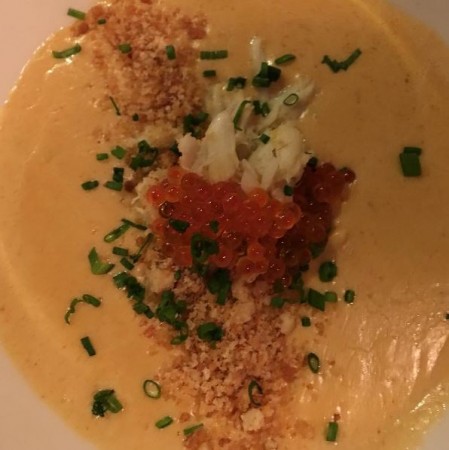 IBT: What is your comfort food?
My comfort food is homemade chicken soup with a special tiny pasta called pastina! I love a warm bowl when I am feeling down. Otherwise give me some sushi!
IBT: Are you a picky eater?
Guleff: Yes and no. I love perfectly prepared food, good food and simple but flavorful food.
I don't like processed food. I will try almost anything. But I would rather not eat anything, then eat something that is I do not like.