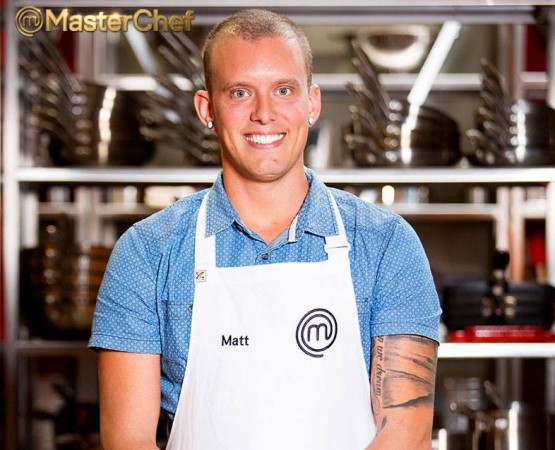 Since the start of "MasterChef Australia" Season 8, Matt Sinclair has been a favourite. The coffee roaster's dishes on the reality cooking show exemplify his creativity, skill and most importantly, his ability to think quickly on his feet.
After all, anyone who's watched "MasterChef Australia" would know that the judges don't make any challenge easy for the contestants. This shining quality has helped him get so far in the competition and as the last three instalments, episodes 61,62 and 63 are yet to be aired, many believe the Season 8 semi-finalist could very well emerge as the winner.
Of course, winning the title of MasterChef won't be easy for Matt as he does have several other exemplary cooks to compete with. The 27-year-old has to battle against his fellow contestants Elena Dugan, Elise Franciskovic and Harry Foster to win the top spot. However, Matt has had a slight edge over these contestants earlier and he could very well face a similar situation again.
In fact, several rumours and spoilers surrounding "MasterChef Australia" Season 8 suggest that Matt will go on to beat contemporaries. Reason? Matt's Instagram account includes a picture of him with last year's runner-up, Georgia Barnes. The two are seen posing at Regional Flavours Launch in Brisbane. In another picture, he is seen with celebrity chef Miguel Maestre as well.
While many believe that Matt's presence at the event seems to signify he is "MasterChef Australia" Season 8 winner, the contestant was perhaps present at the launch because he is a native of Sunshine Coast, where the event was held.
Only time will tell if Matt is indeed the winner of this year's reality cooking show. But until then, there's still plenty of drama and delicious food that are equally exciting to watch. In the upcoming episodes, contestants will have to take part in another mystery box challenge and an invention test. Apart from this, they will also have to recreate a Lake House signature dish as part of their service challenge. However, judging by the promo, it seems likely that Harry could go home.
"MasterChef Australia" Season 8 episodes 61, 62 and 63 air at 7.30 p.m. AEST on Sunday, Monday and Tuesday on Ten. You can watch the episodes online by streaming it via Ten Play.