The album of "Masss", which was released on Friday, 08 May, has created frenzy among Surya's fans and the songs have struck a chord in no time.
Mother's Day Special: Kollywood Celebs with their Moms
People, especially the youth are impressed with the songs composed by Yuvan Shankar Raja. Many have said that after a long time the musician has come out with a wonderful album.
The music directly hit stores instead of being released through an elaborate launch event. Each song then was released on different radio stations through the day.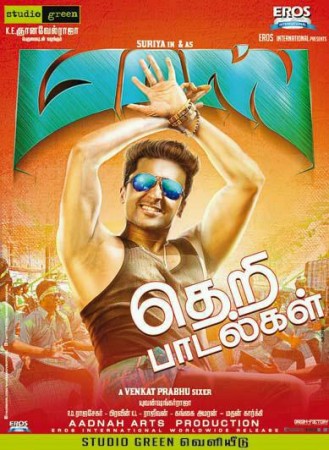 The album has five songs sung by Shankar Mahadevan, Ranjith, Yuvan Shankar Raja, Karthik, Chinmayi, Pooja and Vaikom Vijayalakshmi. Madhan Karky and Gangai Amaren have penned the lyrics.
Surya, Nayantara and Pranitha starrer "Masss" is directed by Venkat Prabhu and produced by KE Gnanavel Raja. Below, we bring to you listeners' response to the album:
Balaji Mohan Tweeted
@Suriya_offl @dirvenkatprabhu @Premgiamaren awesome songs sir @thisisysr sir at his best! #Masss audio indeed! waitin for the movie!
Prashanth Posted
#Masss theme - 9/10 , return of the music dragon Yuvan!!
Actor Arun Wrote
Pls change the music Dir for ur next project @dirvenkatprabhu @Premgiamaren poor music album #Masss
DangaMaari Tweeted
Almost forgot #Suriya is the lead in #Masss. #Yuvan totally owns it! Watta Album!!
The best thing about #Masss album is that #Suriya didn't get to sing any song:) The EkDoTeen mess averted!!
Vinay Christopher Posted
#Masss is one example Y I love yuvan just tryin different different things even though he can give an album like other current so call'd MDs
When it comes to experimentation, mixing ,variety and orchestration No one can come close to #yuvan #Masss
Rockstar Wrote
#Masss Theme is not upto mark after first hearing :( expected marana mass theme !
Sreekuttan Mvs Posted
You won Shankar Raja. #Masss
Vivek Tweeted
#Masss themes are everlasting Goosebumps @thisisysr @dirvenkatprabhu masss written all over
Niffy Boy Wrote
No complaints about the 2 themes. more than enough and onscreen @thisisysr will fuel it more.. #MAsss
#Poohandi too okay. verily instrumental still listenable with second half taking a little melody track. #MAsss
Madhuri Deepthi Posted
@Suriya_offl #masss album rocked n #Rakshasudu waiting to rock.. Now.. Morningz
Had a big #masss treat yesterday vth Audio tracks #Piravi
Lakshman R Tweeted
After listening for one full day, liking #masss songs even better now!
Each one different & innovative!
Can't wait to see with visuals!
Lokesh Wrote
@thisisysr Each song has its uniqueness U1..loving it..#Masss. Poochandi and Piravi is my favorite as of yet..truly u r #scientist of d art.
Where to Listen Audio Songs Online?
The songs are available on Eros' website. Click here to listen to the tracks from "Masss".