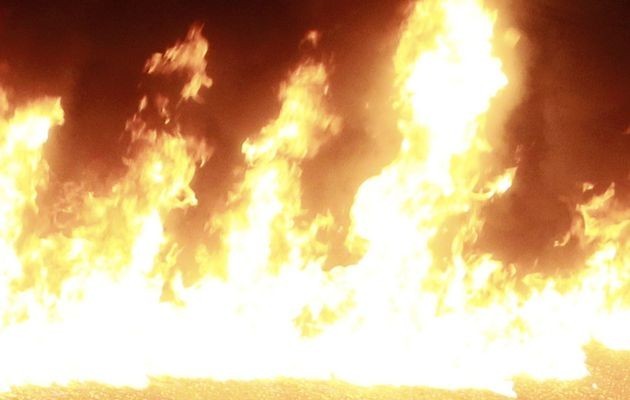 At least 14 people were killed and 15 others were injured with severe burns in a massive explosion at GAIL pipeline in East Godavari district, Andhra Pradesh on Friday morning, reported the Times of India.
According to GAIL Chairman B C Tripathi, the fire occurred in an 18-inch pipeline of the company near to the ONGC refinery complex, reported the Press Trust of India. The blast took place in the early hours of Friday and the cause of the accident is yet to be ascertained.
Rescue team and other officials are involved in the rescue and relief operations. The injured victims have been rushed to hospitals in Amalapuram, Kakinada and Rajahmundry.
The fire is said to have been brought under control. "The fire has been was brought under control and rescues operations are underway. The toll may rise," District Collector Neetu Kumari Prasad told the PTI. It took more than two hours to bring the fire under control and the gas supply line has been cut off, according to NDTV. The explosion has reportedly caused heavy property damage.
Prime Minister Narendra Modi has expressed his condolences to the families of the victims.
My thoughts with the families of those who lost their lives in the GAIL Pipeline fire in AP. Prayers with the injured.

— Narendra Modi (@narendramodi) June 27, 2014
I have spoken to the Petroleum Minister, Cabinet Secretary & GAIL Chairman and asked them to ensure immediate relief at the accident site. — Narendra Modi (@narendramodi) June 27, 2014
Andhra Pradesh chief minister Chandrababu Naidu offered his condolences to the families of the victims, who lost their lives in the explosion. He has also ordered the deputy CM Chinarajappa to visit the blast site and provide the necessary support.
My condolences to the families who lost their loved ones in East Godavari blast. Ordered an enquiry & action plan to avoid these in future.

— N Chandrababu Naidu (@ncbn) June 27, 2014
Asked Dy CM Chinarajappa to go to the ONGC pipeline blast site and provide required support. We need a preventive plan to ensure safety. — N Chandrababu Naidu (@ncbn) June 27, 2014